From the Arizona Room is a weekly column examining the historic, reuse and infill structures in Downtown Phoenix. The inspiration for this column stems from the ever-expanding resources in Burton Barr Central Library's Arizona Room (located on the second floor). For further information on this and other historic structures in the area, visit the Arizona Room during normal library hours.
346 E. Alvarado Rd., East Alvarado Historic District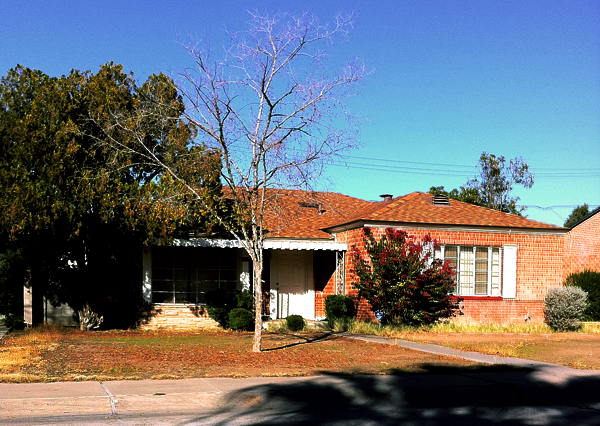 The East Alvarado Historic District, a collection of just 30 homes along a stretch of Alvarado Road between 3rd and 7th streets, is the epitome of 1930s and 1940s suburban Phoenix living.
The neighborhood, platted and marked by a single spec house that stood from 1930 to 1937, started off on an inauspicious note marked by the Great Depression, but by the end of the 1930s and into the early 1940s, it boomed as one of Phoenix's defining neighborhoods for early Ranch and French Provincial building styles.
The Raymond N. Cowley House, a Monterey-style single-story smack in the middle of this stretch of a district, wasn't built until the area's heyday in 1941, but it is notable simply because it remains virtually untouched, even down to the vegetation in the front lawn.
Architect/builder Paul M. Burroway built the Cowley House and the neighboring Roger Hofford house as complementing Montereys: brick with stone foundations, canopied front-entry porches, each with French Provincial-style detailing.
Unlike the Hofford House, the Cowley House utilizes exterior wood in a number of ways: shuttering, its high-pitched hip roof with wooden shingles and cornice molding and its wood-paneled entry. These modest yet significant touches became a character trait of homes of this brief but important era.
Sources: Willo-Alvarado Multiple Property Area Historic Resources Survey, 1989; East Alvarado City Survey.
Is there a historic property in Downtown Phoenix you'd like to see in From the Arizona Room? Email me at si@downtownphoenixjournal.com with the address and a brief description.
---