From the Arizona Room is a weekly column examining the historic, reuse and infill structures in Downtown Phoenix. The inspiration for this column stems from the ever-expanding resources in Burton Barr Central Library's Arizona Room (located on the second floor). For further information on this and other historic structures in the area, visit the Arizona Room during normal library hours.
1317 W. Jefferson St. — Government Mall Redevelopment Area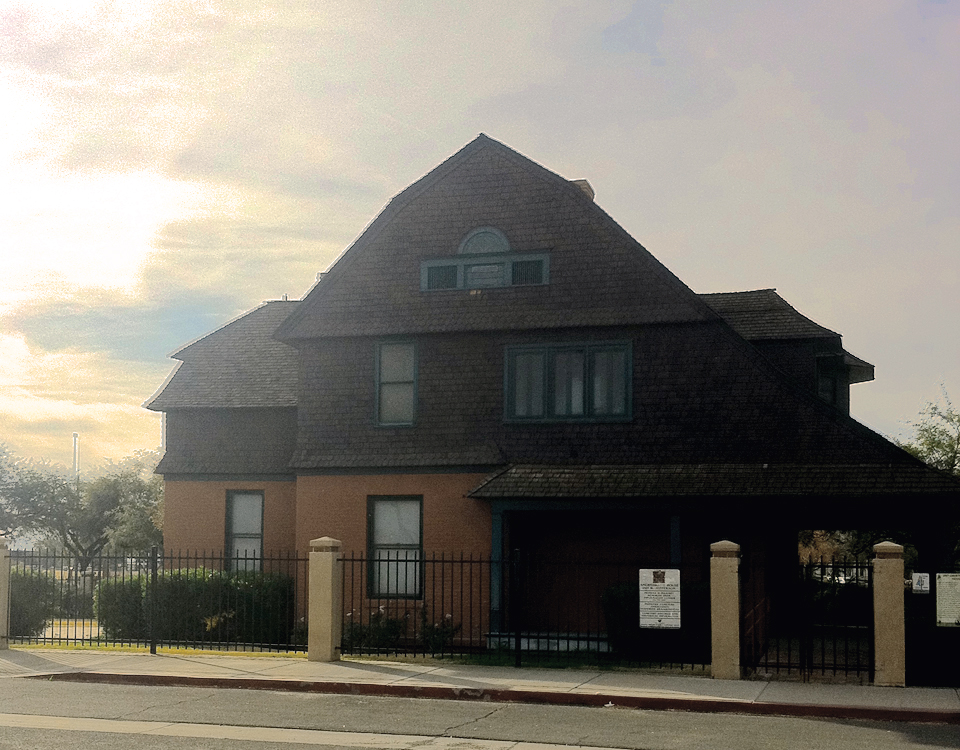 Interesting fact: The Churchill Addition, 49 city blocks divided into 12 lots each spanning from Roosevelt to Van Buren and 7th Street to Central Avenue, does not have any pre-1900 homes remaining within its boundaries, despite having been officially annexed into the city of Phoenix in 1895. Yet less than 20 years ago, a handful remained.
The D.W. Macdonald house (1899) once sat in the plowed lot at 5th and Pierce streets. The E.M. Shoemaker House (1899) at 810 N. 4th Street was recently torched beyond repair in a fiery blaze, now leaving another dirt lot in the Evans Churchill neighborhood. A third home, the Connell/Smurthwaite House (now commonly referred to as simply the Smurthwaite House), was at the northwest corner of Fillmore and 7th streets for 97 years, but it too is now gone, though not for good.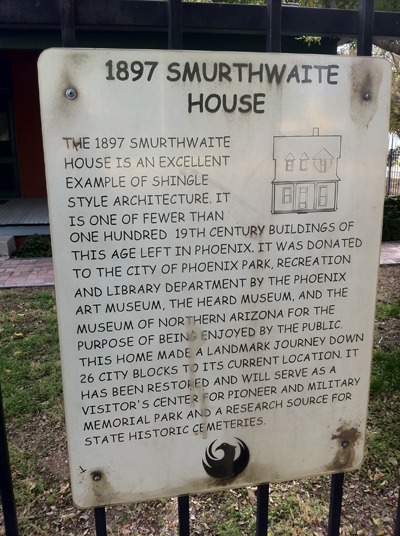 In 1991, the Heritage Fund approved a $50,000 grant to restore the home, which had gone into decay from a decade of neglect. Three years later, it made a landmark 26-block journey west to its new home at Pioneer & Military Park. The restoration was completed in 2001.
Still, much is known about the Smurthwaite House's origin. Designed and built by James M. Creighton in 1897, the 3,000-square-foot home cost a whopping $2,875. It is today perhaps Phoenix's best example of a Shingle-style home, though it incorporates elements of Neo-Colonial Revival style (the Victorian furniture throughout the first floor helps as well).
Its size made it spacious even at two stories, and the home was originally intended for use as a boarding house. However, Trustrim Connell and his wife, Anne, moved into the home in 1903, using it as their private residence. Following Trustrim's death, Anne deeded the home to Caroline Smurthwaite, and it remained in the Smurthwaite family until 1982, when Caroline's daughter, Carolann, passed away. Her will requested that the home be preserved and enjoyed by the public.
Today, the house is maintained by the city of Phoenix and serves as an archival library for information regarding historic cemeteries throughout Arizona and also as the headquarters for the nonprofit Pioneers' Cemetery Association, Inc.
Sources: Phoenix: 19th Century Architecture, City of Phoenix, June 1991; Pioneers' Cemetery Association

Is there a historic property in Downtown Phoenix you'd like to see in From the Arizona Room? Email me at si@downtownphoenixjournal.com with the address and a brief description.
---