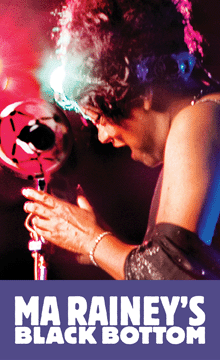 The Arizona Theatre Company is bringing the compelling story of "The Mother of the Blues" to the Valley.
From November 11 to 28, Ma Rainey's Black Bottom will take the stage at the newly renovated Herberger Theater in Downtown Phoenix.
Ma Rainey broke into show business when she was 13 years old, and began her career as a recording artist in the early 1920s, according to ATC's play guide.
She became famous across the country and earned the title, "The Mother of the Blues" due to her influence on the development of the blues as popular music.
Her songs were soulful tales about the life of African Americans during the 1920s, telling stories of the pain of jealousy, poverty, sexual abuse and the loneliness of sharecroppers, the play guide states.
The performance takes place in 1927, when Ma Rainey, played by well-known actor and recording artist Jevetta Steele, is preparing to record her jazz music. Upon entering the studio, she quarrels with a battling quartet of musicians, a stingy producer and her manager who is simply trying to keep the recording session on track, the website says.
Written by Pulitzer Prize- and Tony Award-winning playwright August Wilson, the play shows the audience a time when even the most renowned singer of her day had to fight for respect.
Because the theatre is a nonprofit and tickets are not meant to to cover total operating costs, they will always be kept within reach of all members of the community, according to the website. Tickets can be purchased online, by phone or at the door, and prices start at $30. The play opens with preview shows tonight at 7:30 p.m. and tomorrow at 8 p.m. before the grand opening on Saturday at 8 p.m.
The Herberger Theater is located at 222 E. Monroe St. Downtown (light rail stations at 3rd St & Washington/Jefferson). For tickets call 602.256.6995.
---