From the Arizona Room is a weekly column examining the historic, reuse and infill structures in Downtown Phoenix. The inspiration for this column stems from the ever-expanding resources in Burton Barr Central Library's Arizona Room (located on the second floor). For further information on this and other historic structures in the area, visit the Arizona Room during normal library hours.
915 E. Pierce St., Garfield Historic District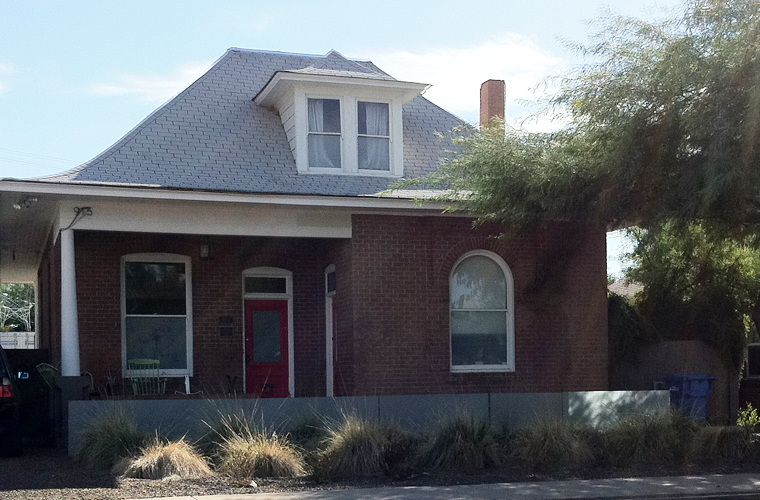 The 1910s saw the central streets of today's Garfield Historic District boom, fueled by the extension of a neighborhood streetcar system that cut through Pierce Street (known as Desert Street at the time of plotting) from 7th Street to a stop at 10th Street.
Neighboring McKinley, Fillmore and Taylor streets all experienced a surge in development as the line extension neared completion, but no street was as architecturally significant as Pierce, where a new breed of pyramidal cottages — compact, square-shaped homes with angular roofs — began to sprout up. By 1910, nearly 20 pyramidal cottages spanned Pierce from 7th to 9th streets. Expansion crept one block east to 10th street for the next five or so years.
One such exception to the quaint size of homes in this row is the Grand Pyramid House, a roomy Colonial Revival that ignored the typically modest fashion of the time. Built c. 1900, it was one of the pioneers of this soon bustling neighborhood intersection. Its defining characteristic today is its fire-engine red front door located off of a welcoming porch covered by a wide eave overhang. Inside, original wood floors remain, hearkening a time when this was one of the most popular sections of Phoenix.
The house was placed on the National Register of Historic Places in 2002 before a slick remodeling a few years ago. Amazing what a few touch-ups will do!
Sources: Arizona State Historic Property Inventory; National Register of Historic Places.

Is there a historic property in Downtown Phoenix you'd like to see in From the Arizona Room? Email me at si@downtownphoenixjournal.com with the address and a brief description.
---