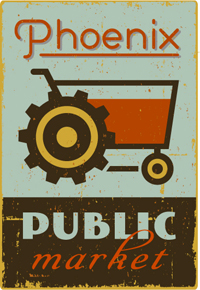 Market Updates
The Urban Grocery's one-year anniversary is coming next Wednesday, October 27. Mark your calendar for cake and ice cream!
The market is looking for decorated cake makers and ice cream churners to help with the celebration. Think you have the chops? Bakers, you are required to make a cake creatively decorated with a market theme (any size; cream cakes are not allowed per county regulation). Ice cream makers, the market prefers that you highlight a local ingredient in your batch (can serve up to 200 samples; must have permit from the MCESD).
A cake display, ice cream sampling and informal voting for the best will take place from 4 to 6 p.m. next Wednesday.
Weekly special: 10% off all Pillsbury Wines. New "Wild Child" red and white varieties are now available!
T-Day special: 30% off Grateful Spoon Gelato for all CSM card holders.
Wednesday @ the Market
Las Vegas' Rushmore Beekeepers will provide the jams for dinner with the food trucks, Dr. Hummus and the Tamale Store. Also stop by for cage-free eggs from Pud's Cackleberries; produce from One Windmill Farm, Horny Toad Farm and Arizona Homegrown Solutions; and fresh bread from Bread Basket Bakery.
Saturday @ the Market
Live music by Azogue, along with the return of Sapna Café's East Indian and vegan fare. Also on Saturday: Cotton Country Jams, Luminous glass jewelry, the Original Cobbler Factory, Poppa Maize popcorn, Essence of Paradise incense, plus all the fresh produce you can handle!
If You Go: Phoenix Public Market and Urban Grocery & Wine Bar
Urban Grocery and Wine Bar: Tuesday to Saturday 7 a.m. to 8 p.m.
Open-Air Market: Every Wednesday 4 to 8 p.m., every Saturday 8 a.m. to 1 p.m.
Location: 721 N. Central Ave. (market) / 14 E. Pierce St. (grocery) (NE corner of Central and Pierce, three blocks south of Roosevelt and the Roosevelt light rail stop!)
Free parking —  MasterCard, VISA, AZ FMNP, WIC Cash Value Vouchers, and food stamps accepted (cash is also welcome!) Sun Cards are welcome, too!
---