From the Arizona Room is a weekly column examining the historic, reuse and infill structures in Downtown Phoenix. The inspiration for this column stems from the ever-expanding resources in Burton Barr Central Library's Arizona Room (located on the second floor). For further information on this and other historic structures in the area, visit the Arizona Room during normal library hours.
917 E. Roosevelt St., Garfield Historic District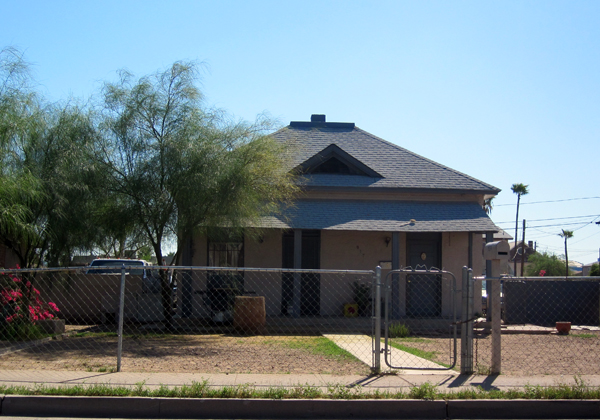 The revitalization of the Garfield neighborhood has been a slow but constant progression over the past decade. Historic bungalows have been modernized, live-work row houses have sprouted up from dirt lots and the crowds at Rito's are thicker than ever.
The main drag is still the northernmost arterial road, Roosevelt Street, with its mix of historic homes, restaurants, schools, convenience shops and arts spaces. But for 112 years, the quaint E.W. Skinner House has been a constant presence at 9th and Roosevelt streets.
The c. 1898 Neo Colonial Revival-style home was built by Mr. Skinner himself, a noted Phoenix contractor. The building was right in the heart of the Dennis Addition, a portion of land from 7th to 12th streets and Roosevelt to Van Buren streets — at the time barren desert farmland adjacent to the Phoenix town site — that was founded in 1893 and annexed to the city in 1899. The Dennis Addition later became the lion's share of the Garfield District.
Skinner sold the home in 1899 following annexation, and it was used throughout the years as a single-family residence and rental home.
Today, the wood frame and stone foundation is still in good condition. No word on the original asbestos tile wall sheathing. You can't miss the home, located across the street from Welcome Diner, with its funky, truncated hip roof and boxed cornice. A rear addition was added to the house in the 20th century, and the asphalt shingles are presumably much younger than most of the home. It stands as one of only a handful of pre-1900 Dennis Addition homes still in existence. It was placed on the National Register of Historic Places in 1995.
Sources: Arizona State Historic Property Inventory; National Register of Historic Places.

Is there a historic property in Downtown Phoenix you'd like to see in From the Arizona Room? Email me at si@downtownphoenixjournal.com with the address and a brief description.
---