DPJ is proud to bring you the best Yelp reviews of your favorite Downtown restaurants, boutiques, venues and everything in between. Every week, visit DPJ for a finely crafted, tell-all account of a Downtown spot straight from the experts: the people!
Tina T.
Phoenix, AZ
Five-star rating
05.04.10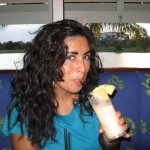 I finally made an appointment recently after receiving a $65 gift certificate from the hubby. I bitched and moaned after calling Sunday and Monday, not reaching ANYONE. Come to find out, they are closed both days and I somehow neglected to see that when I looked up their hours online. Yes, I am an airhead. I do think it is annoying that their voicemail directs you to their website for hours, though.
Anyways, one of the girls actually responded to my voicemail and called me back to schedule an appointment. Seriously? Someone actually called back? Major kudos in my book, and then they were able to take me in the afternoon/evening, which made me very happy.
I was almost 15 minutes late to my appointment because the address on my gift certificate was their old location, so be aware that they are at Central and south of Virginia, not closer to Indian School. The girl working on my hair was Miranda. I opted for the shampoo, cut and style ($60). If I recall correctly, they do a scalp massage with every haircut and Miranda also gave me a hand massage, but I don't remember if that is also with the cut or part of the shampoo.
I had Miranda trim my hair, clean up my layers and blow dry my hair straight (I have curly hair). My hair looks amazing and is silky soft. Yes, I could be in a hair commercial right now with my hair bouncing around my face. I thought Miranda was great and we had good conversation. I thought, Whoa, she could actually be my friend! She must have wooed me with her stylist charms. No, but seriously, this place was very chill, employees seemed happy to work there and very welcoming of the customers.
I guess $60 may seem expensive to some, but I felt like you got alot for it. I couldn't do this every month, but could be persuaded to visit Ide Mania every three months. That seems more reasonable, right? What was cool, too, was that they let me use the remaining $5 on the gift certificate toward Miranda's tip, so I gave the rest in cash. The parking situation could be a little awkward, but I didn't have any issues. I haven't really been to any other salons (for hair), but as far as I'm concerned, I don't need to. Hubby can continue sending me to this place!
Ide Mania is located at 2501 N. Central Ave. in Midtown (light rail at Encanto Station) — 602.265.3880

The DPJ Yelper of the Week offers honest insight on a Downtown business to help you explore your core. DPJ hopes that by partnering with Yelp to spread the good word about well-loved Downtown spots, you'll spread your patronage and support local business.
Yelp is a social networking and local search engine that provides the reviews of places and things that matter to you. Simply log in, pick a place and queue up your inner critic. You can write a beaming review of your favorite gelato spot, or a scathing portrayal of that rental car facility you had to use after that curb came out of nowhere. Yelp's reviews are at once honest, uncensored, wildly hilarious and true. Heck, the site must be doing something right — it had 26 million viewers just last month!
---