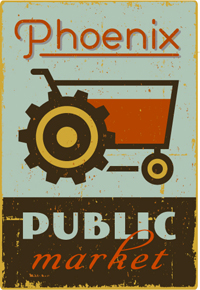 Market Updates
This week's CSM cardholder special is buy any Grand Canyon Brewery six-pack and receive a Grand Canyon Brewery etched pint glass (while supplies last)!
T-Day special: 50% off Tom's of Maine toothpaste (fennel and anti-plaque varieties).
Wednesday @ the Market
Come thirsty and try samples of Page Springs Cellars and Arizona Stronghold wines in the Urban Grocery & Wine Bar from 5 to 7 p.m. Outside, Mom's Gone Nuts brings the fresh-roasted almonds, pecans and cashews, while late summer produce, hummus and dips, tamales, baked goods, falafel and Torched Goodness fill the lot.
Saturday @ the Market
Come for Absolutely Delightful Honey, DD's Desert Delights' brittle, Grady's Barbeque, Wisdom Nectar's fresh juice drinks, Poppa Maize's tasty popcorn and more! Stay for live music from Dan Snell, playing all morning long!
Only TWO days left to vote for Phoenix Public Market and the food trucks!
Arizona Homegrown Solutions has been selected as one of 41 finalists across the country for a chance to win $20,000 through a grant from Tom's of Maine. The fund will install four water-harvesting cisterns at area nonprofits, including the Phoenix Public Market. It will also provide green job training for under served populations and free water-harvesting classes for the public.
You have until September 10 to vote, so vote now! Scroll down to Arizona Homegrown Solutions, Phoenix, Arizona. Every vote counts!
Have you had a chance to try Short Leash Hot Dogs, Torched Goodness, Truckin' Good Food or any other food trucks parked around the market? With your help, these guys could be feeding people all across the country courtesy of Food Network. Vote daily through September 10 for your favorite food truck to compete on The Great Food Truck Race.
If You Go: Phoenix Public Market and Urban Grocery & Wine Bar
Urban Grocery and Wine Bar: Tuesday to Friday 11 a.m. to 8 p.m., Saturday 8 to 8.
Open-Air Market: Every Wednesday 4 to 8 p.m., every Saturday 8 a.m. to noon.
Location: 721 N. Central Ave. (market) / 14 E. Pierce St. (grocery) (NE corner of Central and Pierce, three blocks south of Roosevelt and the Roosevelt light rail stop!)
Free parking —  MasterCard, VISA, AZ FMNP, WIC Cash Value Vouchers, and food stamps accepted (cash is also welcome!) Sun Cards are welcome, too!
---