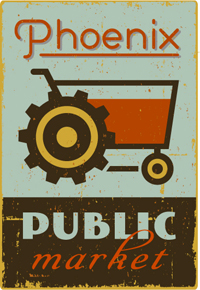 Market Updates
T-Day special! On Thursday, receive 50% off on Lundberg Organic Mediterranean Curry Rice Couscous, made with 100% brown rice. Gluten free!
And all week long, $5 off Canelo Hills' sauvignon blanc. This perfect summer wine has hints of dew-covered desert grass, pear and tart apple. Sure to be a hit at any dinner party!
Do you have a CSM card and a Facebook account? Enter into the market's drawing! Post a photo of you and your CSM card along with a Phoenix Public Market purchase on the Market's Facebook.
Include why you love that item or give the market a recipe. They'll draw names on August 16 and one cardholder will have the value of his or her CSM card doubled!!
Wednesday @ the Market
Calling all winos! There is a wine tasting featuring Canelo Hills, Rancho Rossa and Oak Creek Vineyards in the Urban Grocery & Wine Bar from 5 to 7 p.m. Relish This, Especial Tuna, Short Leash Hot Dogs, Torched Goodness, Crows Dairy and others will be among the market vendors there. Plus, taste the first gala apples of the season!
Saturday @ the Market
Live music by Acoustic Desert will fill the air at Saturday morning's market. Chili Acres has gluten-free "Cheesy Bites" stuffed with savory or sweet goat cheeses, and Barn Goddess has "Fig-a-li-cios" goat cheese with delicious Chili Acres figs. Jack Meharian has some beautiful pots planted with cool-looking plants for your  home and garden. Rhiba Farms offers sprouts, tomatoes and their famous "ugly salsa" and "ugly pesto." Mi Catering is bottling their salsas — habanero and tomato/tomatillo; roasted chile de arbol and more, plus their tasty burritos! Check out the new flavors of hand-rolled goodness at the Tamale Store, and the hand-rolled incense at Essence of Paradise. Raw flax crackers at Raging Raw, bagels and European-style breads at the Arizona Bread Company and the cream puffs at P&M Pastries are some can't-miss taste treats this week.
Vote now for Phoenix Public Market!
Arizona Homegrown Solutions has been selected as one of 41 finalists across the country for a chance to win $20,000 through a grant from Tom's of Maine. The fund will install four water-harvesting cisterns at area nonprofits, including the Phoenix Public Market. It will also provide green job training for under served populations and free water-harvesting classes for the public.
You have until September 10 to vote, so vote now! Scroll down to Arizona Homegrown Solutions, Phoenix, Arizona. Every vote counts!
Love the Phoenix Public Market? Of course you do! Show them how much by voting for them as your favorite market. You have until the end of the month.
If You Go: Phoenix Public Market and Urban Grocery & Wine Bar
Urban Grocery and Wine Bar: Tuesday to Friday 11 a.m. to 8 p.m., Saturday 8 to 8.
Open-Air Market: Every Wednesday 4 to 8 p.m., every Saturday 8 a.m. to noon.
Location: 721 N. Central Ave. (market) / 14 E. Pierce St. (grocery) (NE corner of Central and Pierce, three blocks south of Roosevelt and the Roosevelt light rail stop!)
Free parking —  MasterCard, VISA, AZ FMNP, WIC Cash Value Vouchers, and food stamps accepted (cash is also welcome!) Sun Cards are welcome, too!
---