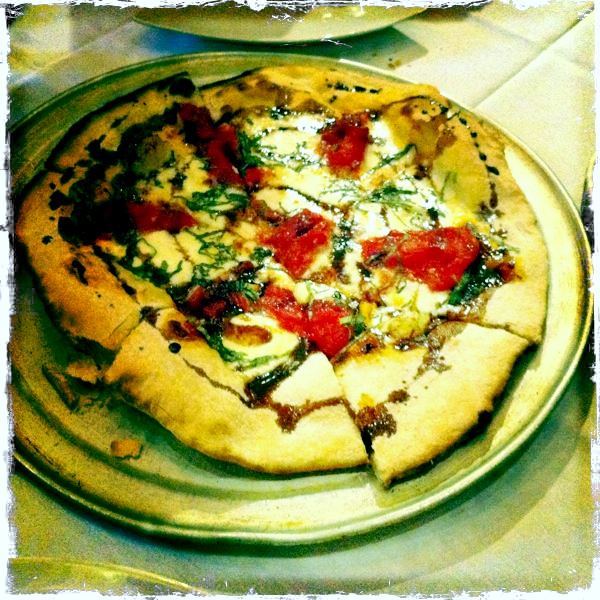 Hiding in the shadow of Roosevelt Square, Centurion is far superior than its subtle appearance would suggest. This little Italian spot just might be what you have been waiting for.
Being the investigator that I am, I scoured the Internet to locate a fresh, delectable margherita pizza. After looking around, I found that just down the street from me resides a sweet-looking pizza that might be a diamond in the rough. So, I set my sights on Centurion in hopes of having my cravings quieted.
Previously, this quaint spot had been home to some short-lived restaurants, so I was a bit skeptical, but as I approached, the breeze brought the smells of deliciousness that I was sure to enjoy.
Once you squeeze through the door, you are met by a small room that snuggles you to the kitchen. Everyone is forced to be your friend in such tight quarters, but that's not such a bad thing. I was informed by a friend that restaurants of this size exist all over culinary epicenters such as Chicago and New York. Any discomfort I had with the place was quickly wiped away by the nature of the hosts. They were at my side with welcoming smiles and a rather impressive menu within seconds.
After a delectable, pillowy baked brie starter, the evening's main event, the margherita pizza, arrived in all of its splendor. Piled high with fresh tomatoes, mozzarella and fresh basil, this was an extremely delicious pizza. The secret, or so I'm told, is the generous drizzle of balsamic-blueberry reduction, which gives it a slightly sweet surprise. You know me, I love sweet things, so this entrée was extremely welcomed. Every taste was amplified over the previous and my tastebuds were aflutter over the serious vacation they were on. I didn't rest until every crumb was consumed (I must confess, I had help. I'm no Adam Richman).
The night of searching for a new spot to crave was a supreme success. So, don't let the Roman guard on the patio frighten you — this place is as friendly and as tasty as they come. I know I will be high-fiving my new Centurion friend as often as possible.
Centurion is located at 214 W. Roosevelt St. in Roosevelt (light rail at Roosevelt Station) — 602.687.8796
---