Bunky's 'Brave the Heat' deal
Bunky Boutique is a local contemporary independent boutique located adjacent to Cancer Survivors Park on 1st Street. Designer and indie labels fill up the boutique with a innovative selection of mid-priced clothing, accessories, gifts and jewelry.
The boutique now carries LAmade, a line of '60s-inspired knit clothes perfect for the summer heat. It also features body products by Beekman 1802 and hard-to-find reading material by Phaidon in stock every day.
Best yet: Bunky is now open seven days a week! Monday through Friday 10 a.m. to 6 p.m., Saturday 10 a.m. to 5 p.m. and Sunday 10 a.m. to 3 p.m.
To beat the summer heat in chic style, print out this coupon for 20% off at Bunky, valid until August 15.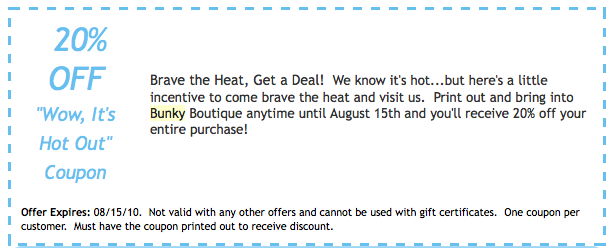 Bunky Boutique is located at 1437 N. 1st St. in Evans Churchill (light rail at McDowell Station).
Snack on something Urban
You can't deny that every now and then you have a craving for something sweet and delicious. Urban Cookies can supply you with some needed treats. The bakery has great organic cookies, amazing cupcakes and signature gift boxes to give that special someone on birthdays and anniversaries.
During August, there are some heat-busting specials on pure organic vanilla cupcakes and cookies. With vanilla bean cupcakes at only $1.99 and vanilla bean sugar cookies at $1.79 each, it makes for a cheap bite to sweeten that boring lunch. If you want to treat the office, get a dozen cupcakes for $23.88 or a dozen cookies for $17.99.
Need something a little cooler to chill off that weather outside? There's a nearly half-pound ice cream sandwich with your choice of two cookies and gourmet vanilla ice cream for $4.99. You'll want to share this one with a friend (or stash some for later).
Order a gift box full of goodies for you, your loved ones, your office or your classroom now online or call 602.451.4335.
Urban Cookies is located at 4711 N. 7th St. in Uptown, and is open Monday through Saturday, 11 a.m. to 6 p.m.
---