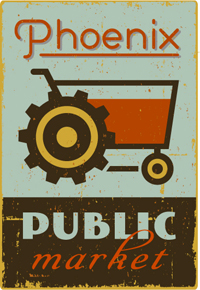 Recently, the city of Phoenix received a $25,000 grant from the National Endowment for the Arts that it will be using it to redesign a Downtown street to improve pedestrian accessibility to the market! An artist/design team will be redesigning the block of Pierce Street in front of the market from Central Avenue to 1st Street.
Market updates
CSM cardholders can look forward to $5 off bottles of Rancho Rossa Cabernet, Syrah and Mourvedre wine. It's a full-bodied, estate-bottled red wine blend. Grab 'em while they're cheap using your CSM card!
T-Day special: Come in Tuesday or Thursday for buy one, get one free melons! The market has cantaloupe, Crenshaw, Charentais and Galia melons from Blue Sky Farm in the West Valley.
Orlando Zapata from Wei of Chocolate still needs your help with his summer donation drive for several local domestic violence shelters. They need kitchen and bath items, toiletries, baby supplies and gift cards are accepted too. Please help with what you can!
Wednesday @ the Market
It's National Crème Brulee Day at the market with Torched Goodness. There's also Short Leash Dogs, The Tamale Store, Nakia's Kitchen, Troyer Poultry, Cajun Country Spices and Crow's Dairy join the market today.
Saturday @ the Market
Skip that early morning cup of coffee for a bottle of water and join the Downtown Phoenix Fitness Walk/Jog every Saturday morning at 7 a.m. at Central and Pierce. Wake up to a nice stretch! It's free and parking is free on the market lot. Get more details at mileclubchallenge.com.
Derrick Mendonca will play live music while you chow down on veggies and melons. The vendors will be providing the perfect meal with beef, poultry, buns and sauces, pasta, cheese and pickles. Raimondo's, Dr. Hummus, The Gardener's Kitchen, Mi Catering and more will be providing prepared foods for those who want to sit down for the live music.
If You Go: Phoenix Public Market and Urban Grocery & Wine Bar
Urban Grocery and Wine Bar: Tuesday to Friday 11 a.m. – 8 p.m., Saturday 8 to 8.
Open-Air Market: Every Wednesday 4 to 8 p.m., every Saturday 8 a.m. to noon.
Location: 721 N. Central Ave. (market) / 14 E. Pierce St. (grocery) (NE Corner Central and Pierce, three blocks south of Roosevelt and the new Roosevelt light rail stop!)
Free parking —  MasterCard, VISA, AZ FMNP, WIC Cash Value Vouchers, and food stamps accepted (cash is also welcome!) Sun Cards are welcome, too!
---