From the Arizona Room is a weekly column examining the historic, reuse and infill structures in Downtown Phoenix. The inspiration for this column stems from the ever-expanding resources in Burton Barr Central Library's Arizona Room (located on the fourth floor*). For further information on this and other historic structures in the area, visit the Arizona Room during normal library hours.
330 W. McDowell Rd. in Willo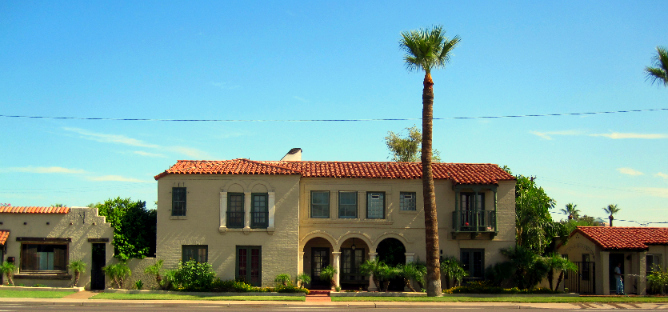 If you're looking for an excellent, well-preserved example of Spanish eclectic architecture, look no further than the El Conquistador Apartments building on McDowell Road and 5th Avenue. The building represents an iconic era for this neighborhood, when McDowell was becoming one of the city's major retail thoroughfares and the neighborhoods to the north and south were beginning to fill up nicely.
The apartments were completed in November 1931 by architect Wallingford & Bell and contractor William G. Elder, and represented a then rare and desirable trait: Multi-family housing that abutted the quiet Willo neighborhood following a city zoning ordinance in 1930 that zoned the subdivision for single-family buildings only. Because the tract of land is on McDowell, the apartments were completed without controversy.
The building was owned by Mrs. Effie Anne Purcell, who rented it out to tenants for several years.
With just nine units, the two-story building was a hot commodity from the day it opened. Brick with a concrete foundation and clay tile roofing, the exposed rafters and wooden French door entries were a hit with residents. The building has been altered, most notably with all-new windows and sashes and some infill spots on first-floor openings.
Source: Willo-Alvarado Multiple Property Area Historic Resources Survey, 1989.

Is there a historic property in Downtown Phoenix you'd like to see in From the Arizona Room? Email me at si@downtownphoenixjournal.com with the address and a brief description.
*NOTE: The Arizona Room will temporarily close from July 18 to August 2, as it is relocating to the second floor of the Burton Barr Central Library.

---