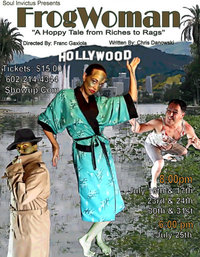 It is rare to see amphibious life on Grand Avenue, so take this Third Friday as an opportunity to experience the way of the frog.
Yes, that's right, starting tonight and throughout the rest of July, you may notice a frog-woman hybrid near Soul Invictus, but no need for a double take. That's FrogWoman, the star of the wacky new dark comedy of the same name about a mega film star surgically enhanced to look like a frog. I really can't make this stuff up. Per the play's description:
[FrogWoman] escapes the clutches from her overprotective producer to find her place in a dangerous and confusing world. Hunted down by her psychopathic producer, chased by overzealous "FrogWomanHeads" and longing for her frog in shining armor, she goes from riches to rags and finds happiness and love along the way. This is a tale that will touch you, surprise you and make you hop away happily into the night!
Not sure what "FrogWomanHeads" are, or what their significance is, but anything that promises to make Third Friday goers hop happily into the night is presumably an entertaining ride. The rags-to-riches story is sure to compel the audience, and the oddly Frankenstein-esque quality of the main character hints that there may be just as much human as frog in this power struggle of a story.
The show, written by Theatre in My Basement founder Chris Danowski, is directed by the founder of The Sic Sense Sketch Comedy Troupe, Franc Gaxiola.
"FrogWoman" debuts tonight at 8 p.m., and runs July 17, 23-25, 30-31. Tickets are $15 (cash only at the door) or online. Soul Invictus is located at 1022 Grand Ave. — 602.614.4154
---