So, you walk into a local coffee shop today, like you do on several other days of the week, with your laptop tucked under your arm and your brain spinning with all of the work you have to do. Your favorite table, the one right by the power outlet and the window, is taken by someone else. He has his papers sprawled across the table and doesn't look like he'll be leaving any time soon, so you settle for a different spot nearby.
After answering your e-mails and reading the news, you finally get to work. But, the woman next to you answers a personal phone call and you're forced to hear the entire conversation, no matter how hard you try to block it out. You decide to take a break and catch up on your social networking until she's done, but by that time you've already lost focus.
Sound familiar? It probably does if your job doesn't provide with you an office space. Fortunately, there is now a place where you can avoid it all.
Downtown Phoenix is about to get its first co-working space. It's called CO+HOOTS, and its purpose is to provide you with a place to work where you will be surrounded by other creative people that can help inspire you instead of hinder your productivity.
Co-workers can choose from different membership levels, but first must apply to get a space. They are selected based on how well they are expected to fit in with the other members.
"It's a community of people that believe in the same thing that want to do better, and it's not just about making money — it's about building better work," says CO+HOOTS manager and eeko studio owner Jenny Poon.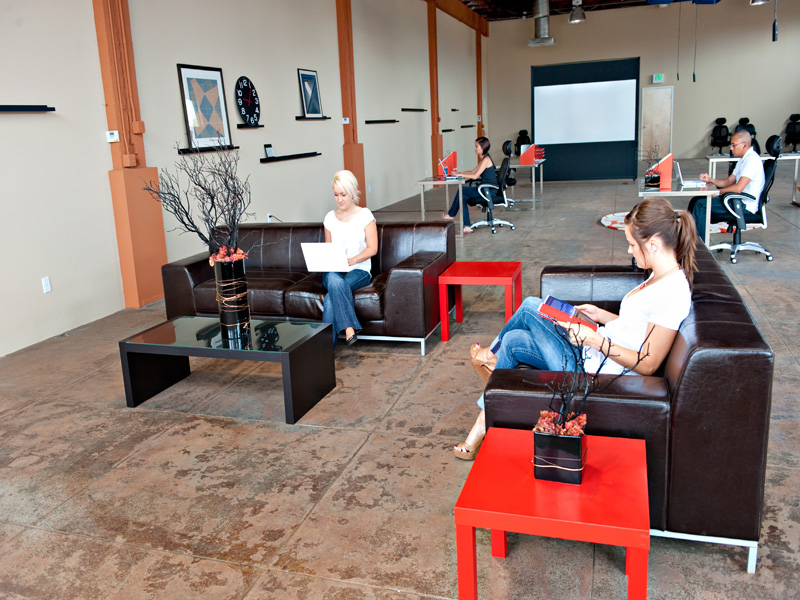 About a year ago, Poon had the idea of getting three or four other businesses to share a space with her, thinking they would be the elements that make up an advertising agency.
"I wanted an office space because that was the most obvious next step for my business," she reveals. "And then I wanted to be in an environment where I was inspired by other people."
The plan didn't work out, and Poon stopped searching for a space for a while. When she began to look again, she revisited the former J.B. Bayless Grocery store near 7th and Roosevelt streets, a location she had looked at before. The owner of the historic building suggested she turn it into a co-working space, and, less than two months ago, the idea of CO+HOOTS was born.
The 4,000-sq.-ft. building, constructed in 1926, features stained concrete floors, an unfinished 15-foot ceiling and brick walls decorated with artwork and lined with large windows that provide plenty of natural light.
Poon also plans to use the space for events, such as First Friday displays and guest speaker appearances.
"A big part is doing educational events for small businesses and entrepreneurs who just want to get better," she says.
The first event at CO+HOOTS is its grand opening celebration this First Friday. Guests will be able to tour the facility and learn about the benefits of co-working. There will also be a collection of work from local photographers and artists, and guests will have the opportunity to create a special art project that will be displayed in the building.
Working at CO+HOOTS
Memberships at CO+HOOTS run $350 or $650 a month, and include a variety of features. Interested co-workers can check out the spot with a $10 day pass. A two-week trial runs at approximately $100.
If You Go: CO+HOOTS Grand Opening
Friday, July 2, from 7 to 11 p.m.
825 N. 7th St. in Garfield
Art on display by Aaron Abbott, Mark Lipczynski, Jeremie Lederman, Huilin Dai, Mark Peterman, Courtney Sargent and Christine Johnson. Music by Meagan Gipson.
Also on hand: Truckin' Good Food and ONEHOPE Wine.
For more information and to RSVP, check out the Facebook event page.
---