From the Arizona Room is a weekly column examining the historic, reuse and infill structures in Downtown Phoenix. The inspiration for this column stems from the ever-expanding resources in Burton Barr Central Library's Arizona Room (located on the fourth floor). For further information on this and other historic structures in the area, visit the Arizona Room during normal library hours.
924 N. 1st St. in Evans Churchill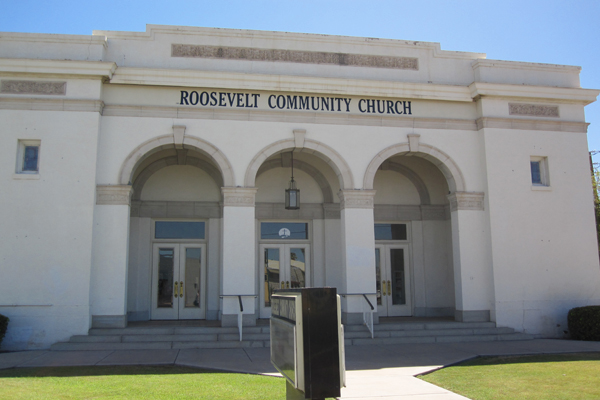 In this fourth and final installment of From the Arizona Room's miniseries investigation of 1st Street buildings, we venture to the corner of Roosevelt and 1st streets to Roosevelt Community Church. It's the oldest building examined in this month-long series, constructed in 1925. It's also the largest and most ornate of the bunch, with its unusual building plan and diagonal alignment.
Previously known as First Church of Christ, Scientist, the building has always been a place of worship. Building plans by Fitzhugh & Byron were drawn up in the early 1920s, and construction began in 1924.
The building stands out from others in the Evans Churchill neighborhood for one specific reason: its orientation. The unusual plan called for a main auditorium aligned with the city street grid (the south end of the building) and an angled entrance pavilion for "better presentation to the intersection" of 1st and Roosevelt.
The entrance, on nearly a 45º angle, greets the traffic on Roosevelt and those coming south on 1st Street from Burton Barr Central Library and other points to the north. This front façade is one of Downtown Phoenix's most iconic building entrances. It is Renaissance in style, with arched loggia between thick end pavilions.
The stucco finish of the building is typical and somewhat unremarkable, but other small details — from the archivolt molding, to the simplistic but precise keystones accents, to the entablature protruding above the church sign — are done in the orthodox manner of the time.
Cosmetic fixes and small additions to the building frame, mostly facing Roosevelt Street, are not well integrated with the building's historic nature, but they are hidden by some well-placed landscaping. It has been on the National Register of Historic Places since 1993.
Source: City of Phoenix Historical-Architectural Resource Survey of the Evans Churchill Area, April 1988
Is there a historic property in Downtown Phoenix you'd like to see in From the Arizona Room? Email me at si@downtownphoenixjournal.com with the address and a brief description.
---