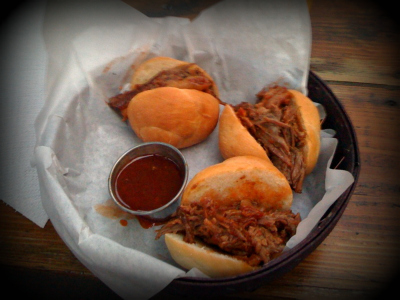 Sweet sassy molassy, this place is incredible. Unfortunately, "incredible" doesn't even begin to describe the treasures that The Duce holds. A former speakeasy, The Duce is now a conglomerate of amazing things under one roof. A gym, a bar, a restaurant, a soda fountain, a coffee bar, a clothing store, a produce stand and more are all the ways that this place is everything to everyone. My recent trek down to Lincoln and Central was so worth it.
I went down to watch the Suns rock some playoff basketball on The Duce's sweet open-air patio. They had some deals running for homemade screwdrivers and various other orange-colored beverages. The spirits were high and delicious. I was here for more than a drink, though. I had my sights set on their noteworthy sliders. Their menu is not exactly huge, but everything on there is ridiculously appealing.
The shiny trailer out in the patio doubles as the kitchen, so I stepped up to order my sliders and submit a nickname to help them track me down. This was going to be awesome. I learned long ago that any time food is served out of a nice trailer, it is generally amazing.
The loudspeaker squeaked out my nickname and beckoned me to see what wonders awaited my palate. The smells were hauntingly intoxicating. I was sold on their succulence before I even saw them.
The three sliders looked so amazing and homemade that I barely had time to take a picture before I was diving in headfirst. Succulent, tender bites of brisket melted in my mouth. The spices and sauce they used were finger-lickin' good. These sliders are for real. They were so good that I barely watched the game I was there to see. Fortunately, I wasn't sharing because there was nothing left for anyone else. I even contemplated licking the basket that they were served in.
The Duce is truly a place that you must see for yourself. You must try something, if not everything, that they offer. I plan on attempting to take up residence there as soon as possible.
The Duce is located at 525 S. Central Ave. (south of the Central/Washington and 1st Ave/Jefferson light rail stations) — 602.866.DUCE
---