From the Arizona Room is a weekly column examining the historic, reuse and infill structures in Downtown Phoenix. The inspiration for this column stems from the ever-expanding resources in Burton Barr Central Library's Arizona Room (located on the fourth floor). For further information on this and other historic structures in the area, visit the Arizona Room during normal library hours.
119 E. Coronado Rd. in Midtown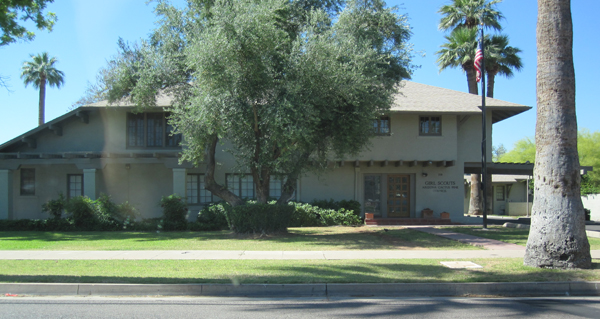 In 1928, a Period Revival home was built on a relatively off-the-path plot near 3rd Street and McDowell Road. The Carl Pleasant/John Barney House stands 82 years later, still relatively tucked away, but just steps from the bustle of the Phoenix Art Museum and the traffic on McDowell.
Brick with a concrete foundation and stucco wall sheathing, the building was occupied for several decades as a residence before transitioning to office use (it is now the Administrative Service Center for the Girl Scouts Arizona Cactus-Pine Council). Surprisingly, the building hasn't changed all that much. The original entry remains, and asphalt shingles much like the original selection still line the roof. Understandably, the interior has been reconfigured to accommodate the office space.
Though it stands out amongst its peers on this neighborhood street today, the design and layout are consistent with 1920s subdivision development. The home was originally occupied by Pleasant from 1929 to 1932. Pleasant gained fame during the era as the namesake of the Carl Pleasant Dam, a 250-foot multiple-arch concrete dam he designed and built in 1927. The dam has since been replaced, and is now more than 100 feet underwater in his current-era namesake, Lake Pleasant, near Peoria. In the 1930s, Barney, who was listed in the city directory under several professions, moved in.
Source: Willo-Alvarado Multiple Property Area Historic Resources Survey, 1989.

Is there a historic property in Downtown Phoenix you'd like to see in From the Arizona Room? Email me at si@downtownphoenixjournal.com with the address and a brief description.
---