Quietly and steadily, The Heard Museum's Native+You Third Friday celebrations have been picking up steam for more than a year, offering a unique mix of music, art, food and the Heard's trademark Native American cultural focus.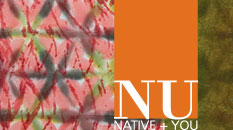 Tonight's event features an hour-and-a-half (7:30-9 p.m.) set from Valley darlings Dry River Yacht Club, a band that seems to play every night of the week, whether it be in the dingy confines of an East Valley bar or the open-air crispness of the Heard courtyard. Sure, they'll be playing stripped-down, acoustic versions of familiar songs — this is, after all, known as a pretty chill event.
As well, the Berlin Gallery, Heard's take on contemporary, striking art, shows off its creature comforts this month (literally) with "Coyotes and Other Artful Creatures," on display tonight from 6-8 p.m.
And, to top it off, a 2009 Sundance selection, Barking Water, makes its Phoenix premiere at the event at 7 p.m. The Heard Museum Café will offer good nosh until 8 p.m. The event runs from 5:30-9 p.m.
The Heard Museum is located at 2301 N. Central Ave. (light rail station at Central/Encanto) in Midtown — 602.252.8848
---