Phoenix native and ghostwriter Joey Robert Parks has a new friend that he wants everyone to meet. His name is 26 Blocks.
His friend is actually an art project that displays 26 Downtown Phoenix blocks from the perspectives of 52 local writers and photographers. It debuts Friday at After Hours Gallery.
Although the project has helped bring the community together, Parks says he wasn't trying to accomplish that, or anything else, really.
"The project feels like a friend; someone I just met at a coffee house," he says. "There's this great person and I just want to introduce him to everybody."
Parks adds, however, that he hopes the project will get people to look at each block from a different perspective and change their attitudes, which, he says, is how people start to change their cities.
Parks developed the abstract idea for 26 Blocks last October, but it really came together and launched in late November after his best friend passed away unexpectedly.
"I just felt like there's no time to be afraid," he says. "All of those ideas that were disconnected were suddenly on fire."
He began pitching his idea to Phoenix-based writers and photographers, inviting them to be a part of his vision. He started with a few people he already knew and asked them for the names of other talented writers and photographers in the area until he had 26 of each.
"The amazing part was that I'd pitch them and I'd do all this research, and every time they'd write back and they'd say, 'This is awesome, sign me up.'"
The photos, which are 24 inches by 36 inches, are suspended from the ceiling by steel cables with the 12-inch by 18-inch writings attached underneath. Twenty-six waist-level cinder block stacks are also part of the display, with each stack holding one of 26 wood cubes created by sculptor Rafael Navarro. Parks says the cinder blocks represent the concept of building blocks. He chose the number of city blocks for the project based on the 26 children's building blocks, A through Z.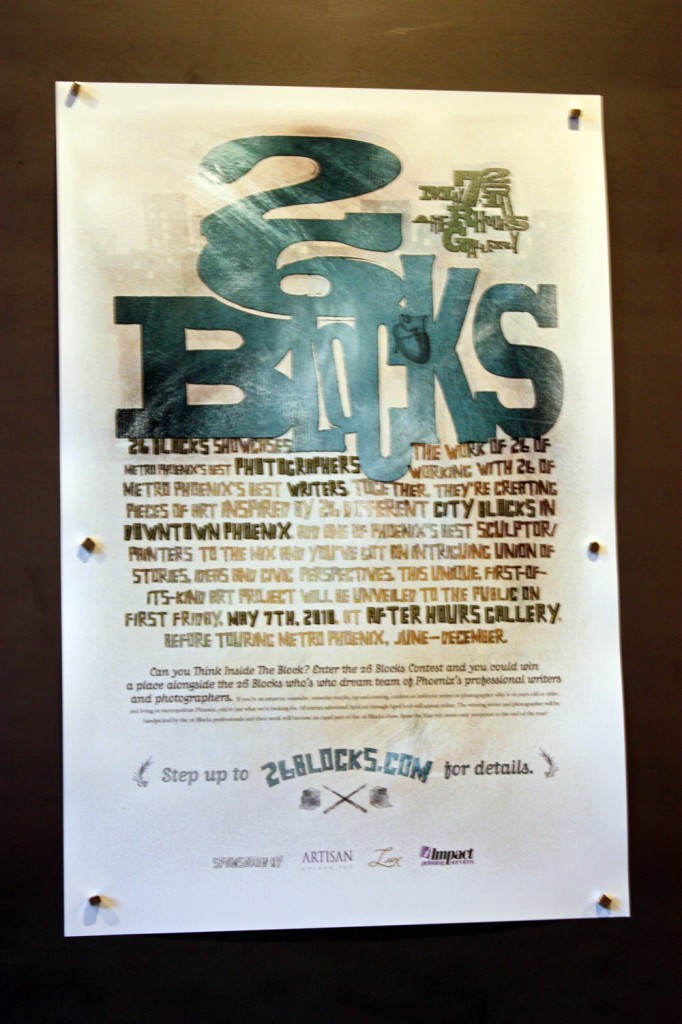 The project also incorporates monthly contests from now until the end of the year. Contestants will choose one of the blocks to write or photograph. The 52 project contributors will select two winners every month, a writer and a photographer, who will each receive a prominent spot on the 26 Blocks website with a biography and a headshot. At the end of the year, the public will vote to determine the grand winner, who will join the end of the tour (at another gallery to be announced) and be featured in the 26 Blocks book.
The project has inspired Parks to consider more projects in the future so he can have more friends like 26 Blocks.
"This person is great. I want more friends like this and not exactly the same," he says. "I want to surround myself with other projects that are equally stimulating and equally challenging for me."
Parks, who has never done an art show before, says he feels like he can do anything that is just as big as this project as long as he can find a way to set his ideas on fire and box up his fear.
"All you need is an idea that's really interesting that you can get people excited about, and all you need other than that is just evidence that you can pull off the different components."
26 Blocks debuts Friday from 6 to 9 p.m. After Hours Gallery is located at 116 W. McDowell Rd. (light rail station at Central/McDowell) in Willo.
---