From the Arizona Room is a weekly column examining the historic, reuse and infill structures in Downtown Phoenix. The inspiration for this column stems from the ever-expanding resources in Burton Barr Central Library's Arizona Room (located on the fourth floor). For further information on this and other historic structures in the area, visit the Arizona Room during normal library hours.
1611 W. Fillmore St. in Oakland Historic District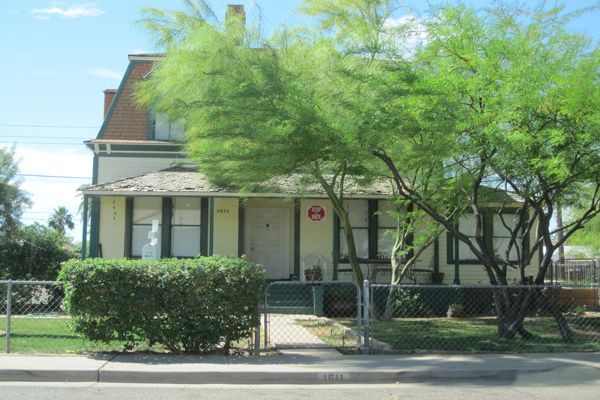 The Oakland Historic District is a wedge-shaped grid of neighborhood streets bisected by Grand Avenue's 45º posture, and many simply do not realize the great history tucked just west of the iconic highway. In the heart of the district, near 15th Avenue and Fillmore, is the Judge Tweed House. It was finished in 1881, making it one of the city's oldest remaining structures, and the oldest building From the Arizona Room has featured thus far.
The house is unassuming enough, on a strictly residential part of Fillmore away from the bustle of Grand in a quiet old neighborhood. The home, one of the biggest in this historic district, has clearly been taken care of, as it does not look its 129 years. Second Empire style, it is two stories (a rarity in this neighborhood) with a wood frame and stone foundation. The home is surrounded by mature foliage and a vibrant green lawn, other atypical sites in these parts.
Wood shingles line the hip roof, but this is one aspect of the home that needs some TLC. The gabled dormer on the roof line's second story remains a quaint touch from the past, and the garage, tucked around the corner, is still fully functional.
Of course, there is the name, Judge Tweed. Tweed was the associate judge of Arizona at the time of building. He purchased a 160-acre homestead with his riches, and starting building the home in 1880. He sold it in 1882, but the name stuck. The home was later occupied from 1926-1935 by John Woodmansee, one of the subdividers of East Oakland, which eventually would become part of this very historic district.
Source: Phoenix: Nineteenth Century Architecture. Survey by Woodward Architectural Group, June 1991.

Is there a historic property in Downtown Phoenix you'd like to see in From the Arizona Room? Email me at si@downtownphoenixjournal.com with the address and a brief description.
---