DPJ is proud to bring you the best Yelp reviews of your favorite Downtown restaurants, boutiques, venues and everything in between. Every Tuesday, visit DPJ for a finely crafted, tell-all account of a Downtown spot straight from the experts: the people!
Nathan M.
Scottsdale, AZ
Four-star rating
03.22.10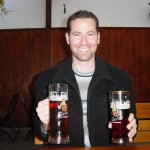 I love cheese. Cheuvront has a large and diverse cheese selection (plus about 8 kinds of mac and cheese). Therefore, I love Cheuvront.
I didn't need Logic 325 for that analysis.
Cheuvront is a cheese mecca here in Phoenix. It helps that they have a great wine list and a cool urban location and decor. I'm not sure the video screen is needed, but aside from that one potential interior flaw, the space is very cool, yet comfortable.
Of course I spent most of my time focused on cheese and macaroni and cheese, so the decor wasn't my main focus… that's right, everything we had, except for the wine, involved cheese. (So I can't comment on the non-cheese aspects of the menu.) The cheese menu is nicely put together with useful descriptions for each offering.
Really, the point of this review is to see how many times I can write "cheese."
Cheuvront is located at 1326 N. Central Ave. in Roosevelt (light rail station at Central/McDowell) — 602.307.0022

The DPJ Yelper of the Week offers honest insight on a Downtown business to help you explore your core. DPJ hopes that by partnering with Yelp to spread the good word about well-loved Downtown spots, you'll spread your patronage and support local business.
Yelp is a social networking and local search engine that provides the reviews of places and things that matter to you. Simply log in, pick a place and queue up your inner critic. You can write a beaming review of your favorite gelato spot, or a scathing portrayal of that rental car facility you had to use after that curb came out of nowhere. Yelp's reviews are at once honest, uncensored, wildly hilarious and true. Heck, the site must be doing something right — it had 26 million viewers just last month!
---