Just like the undeniable growth in the Valley and influx of transplants, improv seems to have found a home and a wonderfully loyal following, especially in Downtown Phoenix.
The Herberger Theater hosted the 9th annual Phoenix Improv Festival this past weekend. Although the festival has had several venues over the years, many of its supporters agree that the Herberger is a perfect fit for the unscripted, never predictable art of improvisation. Spanning over three days, there were numerous improv groups performing from all over the country, special guest appearances and droves of devoted Phoenicians.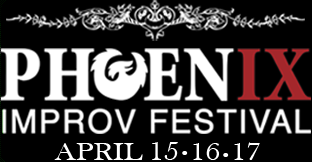 Friday night's showing consisted of four improv troupes. The groups hailed from New York to Los Angeles, with some homegrown talent sprinkled in. With almost every seat filled, the electricity radiated through the Herberger, and while fan participation was not specifically requested, it was certainly present and welcomed by the performers.
"The improv here is on par with anywhere in the U.S.," said Lisa Takata, who has faithfully followed the festival since the beginning.
It's hard to believe that only nine years ago the Phoenix Improv Festival hosted its flagship performance with just three local improv troupes on the lineup. But, while the show has expanded beyond the local comedy groups, they are still very much a key participant in the festival.
Valley natives The Light Rail Pirates were one of the two featured groups Friday night. Christopher Williams, a performer in the comedy troupe and a resident of Downtown Phoenix, said he loves being able to perform at the Herberger.
"The growth down here has been amazing," Williams said, referring not only to the growth of the festival, but also of Downtown as a whole.
Accompanying the Light Rail Pirates were Searching for X, based in Phoenix; Dumpster Tequila out of New York and Dr. God from Los Angeles.
Dr. God surprised and pleased the audience with a guest appearance from feature film actor Matthew Lillard, who stared in movies like Scream and Scooby Doo.
Mark Jordan, the emcee of the festival, host of HGTV's Over Your Head, local improv performer and native Arizonian, is pleased to see the growth of art in Phoenix.
"It's amazing how far Phoenix has really come in the art scene, as a whole," Jordan said.
Although, no longer a full-time resident of Phoenix due to filming in Los Angeles, Jordan says he is in the Valley at least once a month, not only hosting, but also performing.
"I love Phoenix, I cant seem to get away from this place," Jordan said.
The three-day festival was packed with performances, workshops and networking for improvisers and anyone who has an appreciation of improvisation. The annual event is produced by Carefree Write Productions, a nonprofit organization that supports networks for developing local artist.
To stay in the loop for next year's festival, go to phoeniximprovfestival.com.
---