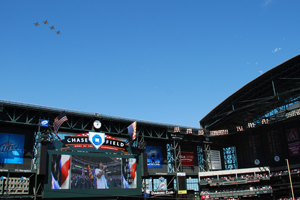 The Arizona Diamondbacks have had an exciting first week of play in this young season. The D-backs won their home opener by a score of 6 to 3 to start the season on a good foot. Opening day at Chase Field was packed, as fans played hooky to catch the first day of baseball.
In the following game of the series, the D-backs were at the mercy of Padres' Adrian Gonzalez's hitting. Gonzalez hit home runs in back-to-back games for the Padres as he challenged Arizona's pitching.
In the final game of the San Diego series, pitcher Ian Kennedy pitched eight strikeouts on the night for the team, but gave up three runs as the D-backs held on to win the game and the series against the Padres. Throughout the series, the D-backs showed signs of power as they hit a total of six homers in the first three games of the season, two of which came from newcomer Kelly Johnson.
The Diamondbacks gear up to face the Pittsburgh Pirates through the weekend before they travel to Southern California to face the Dodgers and the Padres. Tuesday's game looks to be a great one, as Arizona hopes to spoil the Dodgers' home opener. The Pirates come to Phoenix this weekend after winning the series against the Dodgers two to one.
Overall, this week was a great week for Phoenix sports, as the D-backs won their opening series, the Coyotes won home ice advantage in the playoffs and the Suns defeated their arch nemesis, the San Antonio Spurs.
Just a reminder that Friday night is fireworks night at Chase Field, where there will be fireworks after the end of the game. The Diamondbacks will return to Phoenix on April 19, facing the St. Louis Cardinals.
---