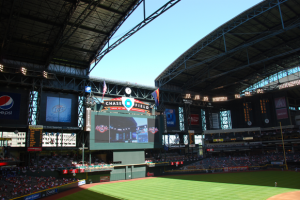 It is that time of year again, where droves of fans hit the light rail and head to Chase Field for some baseball. Some fans would agree that opening day should be a national holiday. Since it's not, some of us will be ditching work with our Pops to catch the game. The Arizona Diamondbacks will begin the season facing the San Diego Padres as Jon Garland is scheduled to face Dan Haren on the mound. It should make for an exciting game. For those that have not had a chance to attend opening day, there will be plenty of pomp and circumstance prior to the first pitch.
Last year, the Diamondbacks won their home opener, but were off to a shaky start and ended the season in last place in the National League West. Losing is never fun, but in and around Chase Field, the fun never stops. There is plenty to do before and after the game, and we'll be highlighting some of the happenings throughout the season, as we follow the D-backs in this exciting new season of baseball.
This year, the Diamondbacks have a surprising amount of depth and talent and made some smart moves during the off-season. Fans will be pleased to hear that Baseball Prospectus (MLB's prediction authority) has the D-backs in a close race for second place in their division. With new additions in the field and on the mound, 2010 should be an exciting year for the Arizona Diamondbacks.
Thinking about heading to Chase Field for a game? Take the light rail. The stations at Washington/Jefferson and 3rd Street drop you off right at the stadium! For ticket information, head to the D-backs site.
---