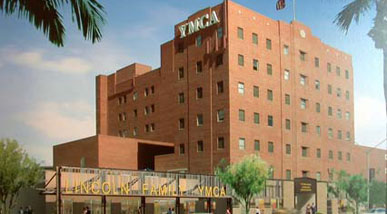 I frequently walk through the sliding glass doors at the Lincoln Family Y on my way to torture myself into at least appearing to not be a slob. Nearly every time, check that, every time I walk through the door, I am greeted with a friendly smile and a hello from the ever-changing cast of employees behind the counter of the YMCA café. I have yet to experience this from the actual front-desk staff at the Y, but that is for another blog entirely.
I know you are wondering what kind of freaky-deaky food blog could possibly feature a local gym/Internal café. Well, I was under the weather during prime blog-researching time last week, so the Y was the only place I ventured.
So, on my one journey out the door since early Sunday morning, I encountered a joyous event known as "Member Appreciation Day" at the Y. Groovy. After pushing grumpy people off of the machines that I like to use and encountering more nude males than I ever wanted to see in my life in the "towels are for losers" zone, a.k.a. the men's locker room, I was relieved to be treated to a free, homemade smoothie.
Strewn across a fold-out table in the lobby sat some fresh bananas, a bag of frozen strawberries, some (hopefully) fresh Tropicana orange juice, a big ole container of yogurt and a blender. My aching sore throat welcomed the refreshing thought of the smoothie. This was going to momentarily relieve all ills. My only slight: I was wishing for fresh strawberries, but given that I was tired from working out when I shouldn't have, I was willing to let it slide and accept the frozen variety. Sooo not locally sourced. Oh well.
Once our generous host slopped out heaps of cool refreshment over a safety net (ahem, a trashcan) my smoothie was in hand and immediately enjoyed. I muscled my way through a mass of people that I'm pretty sure were not members, but starving ASU students in search of sustenance. That happens a lot. Once in the clear, I waved a salutation to the friendly café worker that was working on… well, something, I guess, and then dove into my smoothie.
It was delicious and refreshing. Even with sub-par frozen strawberries, my spoiled brat palate was still impressed. Each strawberry-banana-infused sip was exactly what I needed. I will give the smoothie partial credit in helping me get better.
So, if you deem it worthy to lob $40 a month at a gym, the YMCA will be sure to reward you with an occasional smoothie.
The Lincoln Family YMCA is located at 350 N. 1st Ave. (light rail station at Central/1st Ave & Van Buren) — 602.257.5138
---