From the outside it is hard to tell a difference. The gleaming former Century Plaza tower on Central Avenue looks like it has just been sitting there, waiting for the market to rebound. Yes, a new name, One Lexington, adorns its walls, but unless you were paying special attention, you would have no idea of the changes being made just beyond the front door.
The developers
The timing couldn't be better for Macdonald Development Corporation, the company that recently purchased the building. Familiar with office-to-condo conversions, the opportunity to secure the Century Plaza building seemed like a no-brainer.
"Our business, for the last 30 years, has been to acquire properties where markets have crumbled," says Robert Macdonald, President of Macdonald Development and principal of the One Lexington project. "Markets collapse for various reasons. It could be a financial catastrophe like this recent example. At the end of all that, we come in and buy."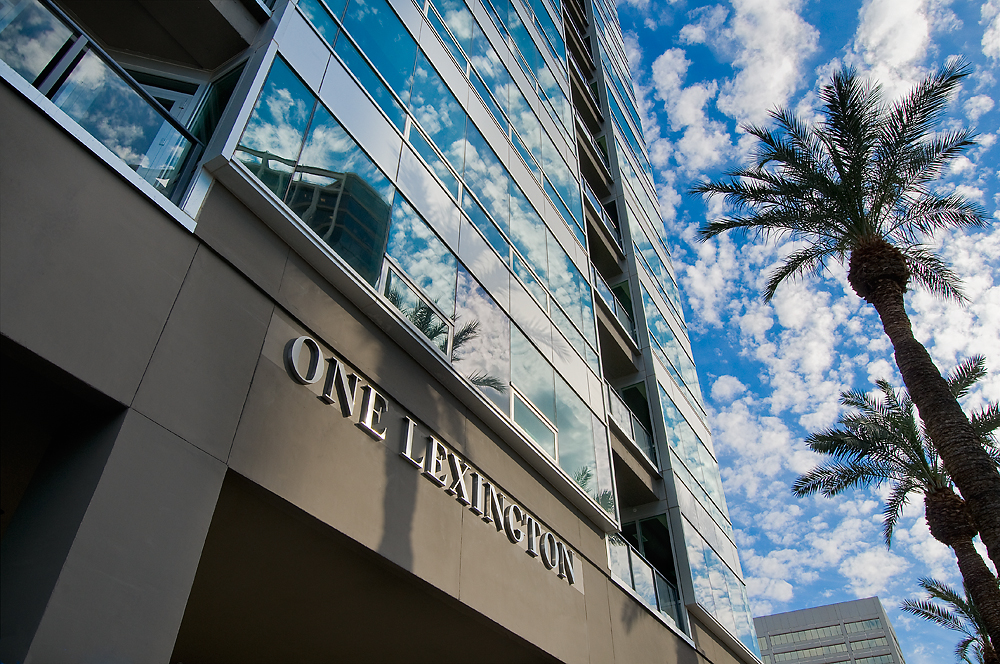 The company's previous successes are evident. Just look at rejuvenated skylines in Vancouver, Edmonton, Sacramento, San Diego and Atlanta, among others.
Macdonald and his partner in the project, Rob Hubbard, have been visiting Phoenix for decades, both for leisure and to survey the real estate landscape. The two were looking at several distressed markets — Las Vegas, Southern California and Phoenix, in particular — to make their next move. Phoenix made the most sense.
"We like Phoenix," Hubbard says. "We have been here, we have contacts here. Out of the two [Las Vegas and Phoenix] markets, I've always preferred [Phoenix], because Vegas can change very quickly. Phoenix was always the first choice.
"In the early part of '09, it became obvious in this market that there was a dramatic draw-down," Hubbard continues. "It went from an 18-month supply to almost in balance — about a six-month supply — in fairly short order. That seemed like a good time to move forward."
Hubbard and Macdonald searched several areas of the Valley — Downtown Phoenix, Tempe and Scottsdale among them — looking at properties.
But, to fully understand the complexity of searching through numerous properties in a quest for a true gem, we have to travel back to the very beginnings of the market collapse in early 2008. Macdonald and Hubbard were already searching around the Valley for "problem" properties that caught their attention.
The acquisition
"[The One Lexington building] stood out like a sore thumb," Hubbard says, smiling. "First of all, it's a high rise. It's concrete; it's well located — certainly a building that is substantially better looking than anything we saw. We just got right on it."
"We weren't really familiar with this [Midtown] location," Macdonald says. "We've been coming [to the Valley] for 30 years, but we'd stay at the Phoenician or play golf in Scottsdale, so that's the area we were used to. When we got to know this area, we thought it was just fantastic."
Both Macdonald and Hubbard cite the light rail and the significant architectural advances in the city core as their main reasons for the excitement in the Midtown location.
Macdonald Development had the building under contract within three or four days of that initial visit, and it progressed quickly from there, though you wouldn't know it from outside. The building continued to sit, a nearly vacant shell, with the Century Plaza sign still shining out to onlookers. But, as cars drove up and down Central Avenue and the light rail whizzed by, improvements and a rebranding was already being laid out.
Macdonald Development was able to get the building for a steal — 30% of the mortgage cost — mostly because it went under contract last April. Post-foreclosure, they were able to buy the building from the bank and make the announcement in February.
The conversion
"We respect what the previous developer was trying to do," Macdonald says. "By our observation, the guy did a great job. We were excited about that, because we've been in his shoes."
"The neat thing is, you have a brand new building," Hubbard chimes in. "This thing was taken down to the concrete columns. It's exceptional, with the commercial ceiling height (at more than 11 feet). For the most part, no one [offers] that."
This brings up a unique point about One Lexington: the building is exceedingly well built. The previous remake of Century Plaza stripped the building to its sound concrete skeleton — originally constructed in the mid-'70s — and built it back up with its fancy aqua-tinted skin and steel shell. A building wouldn't be built this well today.
"Because of the deal we were able to get on the building, we were able to price it out way below the price of construction," says David Newcombe of Russ Lyon Sotheby's International Realty, the sales and marketing company for the building. "People need to hear that loud and clear. The market has bottomed — actually, it's gently going up — it's the right time to buy."
Indeed, the units will now be offered at substantially lower prices — nearly 50% what they were previously going for. But, don't think that these are hastily built living spaces. The views from any direction are incredible — you literally feel on top of Central Avenue and can see far-flung suburbs at ease — but the attention to detail in every unit is exceptional.
As for the rebranding under the One Lexington name, it really made sense to move away from the building's previous moniker, as it really is a completely different building now. Since acquiring the building, Macdonald Development has significantly upgraded the entire place — everywhere from recessed lighting and shiny new walls in the lobby area to improved elevator entryway façades and livelier, lush areas around the pool.
That doesn't even get into the improvements made to the units themselves. Lavish upgrades include Caesarstone countertops, bamboo flooring, Bosch appliances, Kohler fixtures and marble showers and surrounds. The resort-style pool and expansive fitness center (complete with yoga room) outmatch anything available in Central Phoenix.
Since the announcement of the rebranding, the buzz about One Lexington has been on the rise. It's not surprising when you take a look at the product being offered. The neighborhood is ready for the building to come alive.
"It is another signature development that adds to the neighborhood's eclectic mix of chic urban living and historic homes," says Julia Tourville of the Midtown Museum District Neighborhood Association.
"There have been a lot of people waiting to make the jump [to buy]," Newcombe says. "We're extremely lucky. This is a really unique building. This is the perfect package to come to market now."
In the Know: One Lexington

1 E. Lexington Ave. in Midtown
Opening date: March 2010
Units: 130 units, starting at approximately $165,000
1 bedrooms: 734-780 sq. ft.
2 bedrooms: 1,096-1,283 sq. ft.
3 bedrooms: 1,974 sq. ft.
Penthouses: 1,706-2,865 sq. ft.
On-site parking structure
Approx. 11,000 sq. ft. of ground-level commercial space available (more news to come on right here on DPJ!)
Photos courtesy of One Lexington.
---