From the Arizona Room is a weekly column examining the historic, reuse and infill structures in Downtown Phoenix. The inspiration for this column stems from the ever-expanding resources in Burton Barr Central Library's Arizona Room (located on the fourth floor). For further information on this and other historic structures in the area, visit the Arizona Room during normal library hours.
850 N. 2nd Ave. in Roosevelt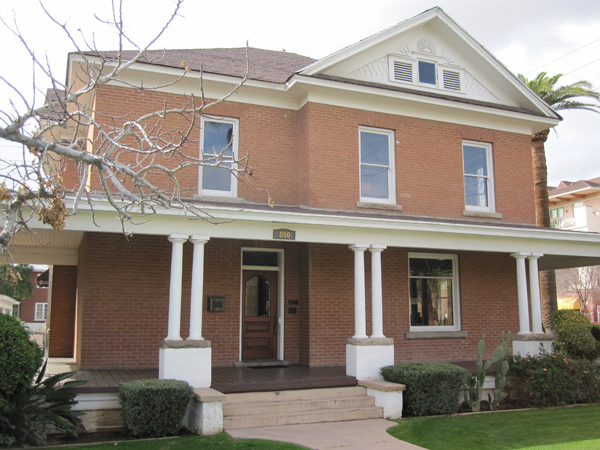 Prior to 1901, brick buildings in Phoenix were typically used for commercial purposes. That began to change with the construction of the O.C. Thompson House on the corner of 2nd Avenue and Roosevelt Street. Though earlier examples of residential brick buildings are scattered around the Downtown core, the Thompson House is perhaps the best located and most often seen example of turn-of-the-century brick Colonial Revival housing.
The building, still in fine condition in the shadows of Roosevelt Square across the street, is sort of a mix-up of popular architectural styles. The diamond-shaped shingles on the gable are Queen Anne, a not-too-common sight in this neighborhood. Two stories, with a hip roof, asymmetrical gabled pavilions and a wraparound porch on paired columns, Thompson's extravagance doesn't go unnoticed, even today.
The building was converted to apartments long after O.C. Thompson and family moved out, rendering a change in the interior layout of the building. The exterior has had little altering, save for a few rooftop improvements over the years, some window improvements and probably more than a few cans of paint. The building now houses several office spaces.
Source: Phoenix Historic Building Survey by Charles Hall Page & Associates, Inc. Sept. 1979.

Is there a historic property in Downtown Phoenix you'd like to see in From the Arizona Room? Email me at si@downtownphoenixjournal.com with the address and a brief description.
---