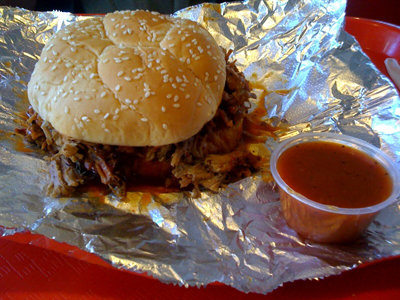 Barbecue is the stuff that dreams are made of. Visions of a sandwich or ribs slathered with deep red, spicy, liquidy goodness is enough to make even the sanest of people accidentally consume their pillow during sleep. Fortunately, for us that prefer to eat real food, Honey Bear's BBQ is right on Central Avenue.
On my way to test out how sunburned my pale skin could get at the m7 Street Fair, I stopped by Honey Bear's to give my hunger the savage beating it deserved. The line was backed out the door, an instant sign that the food is either good or the help is extremely slow with a cash register. I noticed that the line moved rather quickly, so chalk up a victory for skilled help.
My sandwich arrived swiftly and more beautiful than I had daydreamed it would be. Completely slathered with sauce, this sandwich was ready to make my delighted Southern stomach stand up and shout, "Hot diggity!" Oops. I'm pretty sure I did that audibly. So, after apologizing for interrupting all the patrons' lunch, I resumed devouring.
The old saying goes, "The proof is in the pudding." I suppose for the realm of judging barbecue, you have to say, "The proof is in the sauce." If a place does not have good barbecue sauce, then you are required (in the South) to accuse them of slinging ketchup sandwiches and post your review on the nearest water tower. Honey Bear's does not have to worry about me doing this (one problem would be finding a water tower for my review) because their barbecue sauce is righteously good. Slightly spicy with just the right depth of flavor, this is some seriously good barbecue.
So, I strolled the street fair with a very full and content belly, growing redder by the second. It's safe to say that this old Southern boy is very happy in the Valley.
Honey Bear's BBQ is located at 2824 N. Central Ave. in Midtown (light rail station at Central/Thomas) — 602.279.7911
---