From the Arizona Room is a weekly column examining the historic, reuse and infill structures in Downtown Phoenix. The inspiration for this column stems from the ever-expanding resources in Burton Barr Central Library's Arizona Room (located on the fourth floor). For further information on this and other historic structures in the area, visit the Arizona Room during normal library hours.
618 N. 5th Ave. in Roosevelt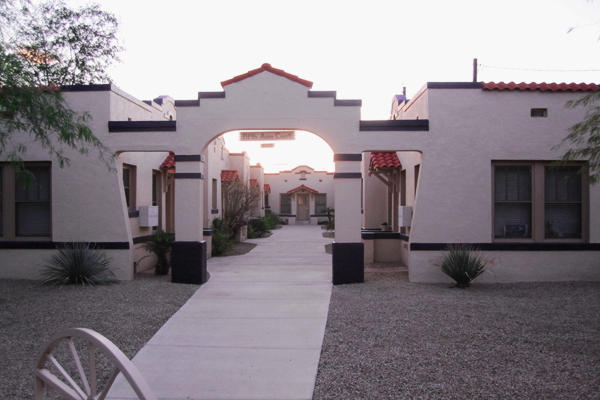 Sitting on the patio at Cibo, you may have noticed a quaint little stuccoed apartment complex directly across 5th Avenue. Though it may look younger than most 82-year-olds, this two-winged complex has been on site since 1928. Dubbed Fifth Ave Court (a rugged, Wild West-like sign still hangs over the peaked entrance today), it is one of the Roosevelt district's original apartment complexes. Remarkably, little has changed in eight-plus decades.
W.A. Wells & Son was the contractor assigned to the job. In today's south Roosevelt, this part of 5th Avenue was hardly affluent back in those days, as the well-to-do tended to live further east near Central Avenue or further north near present-day streets like Lynwood, Wiletta and Portland. Though still close to the city center, Fifth Ave Courts were virtually suburban back when construction began.
A one-story stuccoed brick residential structure — literally a court, with two wings forming an "n" shape around a common area with front entrances — Fifth Ave Court is a prime example of the Spanish Colonial Revival architectural style that was prevalent in the late 1920s in the area. Though a re-stuccoing and a paint job or two may have been necessary over the years, little else has changed. The original plans called for nine residential units (four in each identical wing and a larger central unit in the back), and it is so today.
The 618 address is part of the south Roosevelt revitalization of the past decade, with several small apartment complexes getting fix-ups, as well as a number of historic homes and bungalows being rezoned for commercial use — just within one block there's Cibo, Local Breeze, the Allstate office and a number of law firms.
And, at the time of this writing, there is a rental available in the building. With a location like this, it won't last long.
Source: Phoenix Historic Building Survey by Charles Hall Page and Associates, Sep. 1979

Is there a historic property in Downtown Phoenix you'd like to see in From the Arizona Room? Email me at si@downtownphoenixjournal.com with the address and a brief description.
---