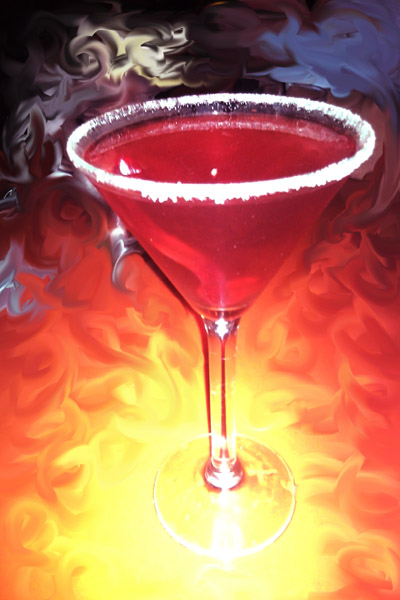 Have you ever caught yourself driving on Central while thinking about tying one on? Me too. What a coincidence. I have had that happen several times since I moved Downtown. Inexcusably, most of us shrug it off. I just did the most logical thing: turned into FEZ.
This restaurant seems to do a lot of things well — make ridiculously delicious burgers, house an extensive bar selection and pulse house music… wait… is that a good thing?
After spending the last hour enhancing my Adonis-like frame at the gym, I had a hankering for a good burger. So, my first thought was to hit up FEZ. I could almost smell the garlic rosemary fries as I paralleled the light rail en route to my dinner. Once I arrived, I was met in the parking lot with the familiar thump of the music that lie within.
Upon being seated, I refused the menu and rambled off my order as if I had been practicing my lines in the car (possibly the truth, but I will plead the fifth). Then, the waitress posed the question that I did not know the answer to: What would you like to drink? Ha. In my haste to engulf the FEZ burger I had forgotten to think of what would cool my parched throat and complement my meal.
Obviously, she had seen this before. I was pointed toward the notable martini selection. Now, I am not one to shrug off the suggestion of the waitstaff. I worked in the restaurant scene at one time, so I'm aware that most good staffers know what is good. At the mention of Feztini, I kindly obliged and knew that once I wrote about this evening, I would encounter some criticism.
Now, there have been some extremely girly drinks reviewed/tested/enjoyed during my tenure at Sips and Grub, so this is not a new thing. In fact, I just quelled any anxiety by reminding myself that James Bond enjoyed several martinis in his day. Whew.
This Skyy Vodka concoction — Skyy raspberry vodka, Chambord and a champagne float — was way pinker than I had pictured. Garnished with a sugared rim and a gummy worm, this is not a martini Bond would order, but it is velvety goodness. The fruit flavor is cooled in the alcohol. Every sip was righteously good.
I'm thankful for my knowledgeable waitstaff. Apparently, my waitress knew exactly what to get with that signature burger. I'm not ashamed. Next time I'll just ask for two gummy worms.
FEZ is located at 3815 N. Central Ave., near the light rail station at Central/Indian School — 602.287.8700
---