DPJ is proud to bring you the best Yelp reviews of your favorite Downtown restaurants, boutiques, venues and everything in between. Every Tuesday, visit DPJ for a finely crafted, tell-all account of a Downtown spot straight from the experts: the people!
Brad E.
Phoenix, AZ
Four-star rating
12.17.09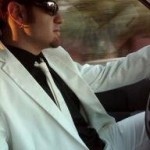 Am I really the first to review? Well, I feel honoured. The British honoured.
I recently moved to the Downtown Phoenix area and during my search this is the place that really stuck out. Awesome location, new build, younger scene, and decent neighborhood. It is close to a lot of my favorite places. The Roosevelt, Lost Leaf, Sens, Matt's Big Breakfast. The list can go on and on.
I have been living here for about a month now and don't have any complaints. I am in a studio apartment on the 3rd floor of the building. I have an awesome view of downtown straight down 3rd and the Westward Ho to the west. Being a new build I am the first to live in my unit, which is very nice. They are a very pet friendly building. Everyone seems to have a dog and they have two doggie clean up stations on the grounds. The pool is nice and open 24 hours. Heated also, but I haven't had the chance to try it out yet. I have been using the fitness center. It is a little small, but they do have free weights, machines, and 6 cardio machines and a yoga room.
There are spaces on the ground floor for live/work tenants. I believe only 3 or four of these are currently filled and hope some other businesses will move in there. Arizona Center is also directly across the street. I have already walked to dinner and the movies.
If you are moving to downtown please give this place a look. They offer move in specials and discounts on rent when new residents are recommended by current ones. *coughcough*
Alta Phoenix Lofts is located at 600 N. 4th St — light rail station at Central/1st Ave and Van Buren. 877.667.4449

The DPJ Yelper of the Week offers honest insight on a Downtown business to help you explore your core. DPJ hopes that by partnering with Yelp to spread the good word about well-loved Downtown spots, you'll spread your patronage and support local business.
Yelp is a social networking and local search engine that provides the reviews of places and things that matter to you. Simply log in, pick a place and queue up your inner critic. You can write a beaming review of your favorite gelato spot, or a scathing portrayal of that rental car facility you had to use after that curb came out of nowhere. Yelp's reviews are at once honest, uncensored, wildly hilarious and true. Heck, the site must be doing something right — it had 25 million viewers just last month!
---