DPJ is proud to bring you the best Yelp reviews of your favorite Downtown restaurants, boutiques, venues and everything in between. Every Tuesday, visit DPJ for a finely crafted, tell-all account of a Downtown spot straight from the experts: the people!
Todd B.
Glendale, AZ
Five-star rating
12.28.09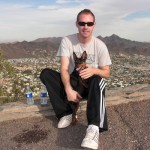 Some might say that Phoenix is a city without much culture. That may be true in some aspects, however we have to remember that Phoenix is a young large city compared to other cities that lie within the United States. So you can say that this city is a work in progress on catching up with everyone's culture expectations.
The Japanese Friendship Garden in downtown Phoenix is only seven years old. Very new to the park scene for this metro, I have to say that it looks great and will only keep getting better in time. That will happen if people stop saying there is no culture in Phoenix and become a part of the evolving city by visiting places such as this. The admission and/or donations will fund a more desired park for all.
The grounds of the garden are very beautiful with a nice flowing stream, several waterfalls, coy fish, and many species of plants. I can't wait to go back in the next several years to see it become a wonderful masterpiece.
The Japanese Friendship Garden is located at 1125 N. 3rd Ave. in Roosevelt — (602) 256.3204
The DPJ Yelper of the Week offers honest insight on a Downtown business to help you explore your core. DPJ hopes that by partnering with Yelp to spread the good word about well-loved Downtown spots, you'll spread your patronage and support local business.
Yelp is a social networking and local search engine that provides the reviews of places and things that matter to you. Simply log in, pick a place and queue up your inner critic. You can write a beaming review of your favorite gelato spot, or a scathing portrayal of that rental car facility you had to use after that curb came out of nowhere. Yelp's reviews are at once honest, uncensored, wildly hilarious and true. Heck, the site must be doing something right — it had 25 million viewers just last month!
---