DPJ is proud to bring you the best Yelp reviews of your favorite Downtown restaurants, boutiques, venues and everything in between. Every Tuesday, visit DPJ for a finely crafted, tell-all account of a Downtown spot straight from the experts: the people!
Brad E.
Phoenix, AZ
Five-star rating
10.24.09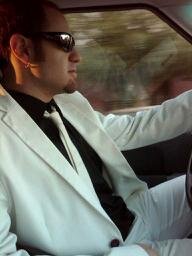 AmenZone didn't disappoint.
So we attended the early class, which meant 5:30 AM! I somehow made it there on time. Most of the time I don't see that time of day, unless it is just getting in. The gym is in downtown in a cool little warehouse space. For this particular class we were outside in the back portion of the lot. There were no weights, benches, or rubber bands. All that was out there was the asphalt and old car and tractor tires. Definitely different. 4 rotations of 5 stations involving every muscle group, plus running. There was shadow boxing, stretching/yoga type moves and wind sprints to round out the workout.
Amen, the trainer, does a great job of keeping you motivated while you are testing your mental fitness about as much as your physical. It is also a very mixed group of people, first timers like me, some very fit and some not so fit. By the end of the class everyone is cheering on everyone else. There is no need to be embarrassed or ashamed if you are unable to finish, but Amen and the group will try hard to keep you going. My only regret so far: I haven't been back in two weeks. I have got to change that.
AmenZone Primal Fitness Training is located at 106 E. Buchanan St. in SoDo — light rail station at Central and Washington/Jefferson. (602) 258.0880
The DPJ Yelper of the Week offers honest insight on a Downtown business to help you explore your core. DPJ hopes that by partnering with Yelp to spread the good word about well-loved Downtown spots, you'll spread your patronage and support local business.
Yelp is a social networking and local search engine that provides the reviews of places and things that matter to you. Simply log in, pick a place and queue up your inner critic. You can write a beaming review of your favorite gelato spot, or a scathing portrayal of that rental car facility you had to use after that curb came out of nowhere. Yelp's reviews are at once honest, uncensored, wildly hilarious and true. Heck, the site must be doing something right — it had 25 million viewers just last month!
---