DPJ is proud to bring you the best Yelp reviews of your favorite Downtown restaurants, boutiques, venues and everything in between. Every Tuesday, visit DPJ for a finely crafted, tell-all account of a Downtown spot straight from the experts: the people!
Robert M.
Phoenix, AZ
Four-star rating
05.07.09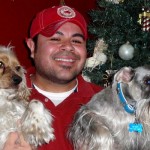 I'm not a girl or a drag queen but if I were, I would head to Shop Devious for all my wigs and accessories. They got vintage, old fashioned candy, wigs galore, scarves, bangles, a type writer, hats, a bowling ball, some men's stuff and much much more. The prices are unbelievable. You'll find yourself asking, is this the right price? My gal pal found a cool purse for $6 bucks. Ah hello, like WOW! This place is way off the beaten path and I love it.
My love's grown deeper for this little shop of fabulous finds as they were hosts of [May's] First Friday Bake for Hope event (breast cancer charity). This gesture says a lot about a retailer and I will spread the word about this goodness.
So get your arse over to Shop Devious and buy something, anything. Just go already!
Shop Devious Beauty Lounge is located at 1229 NW Grand Ave. — (602) 330.5794
The DPJ Yelper of the Week offers honest insight on a Downtown business to help you explore your core. DPJ hopes that by partnering with Yelp to spread the good word about well-loved Downtown spots, you'll spread your patronage and support local business.
Yelp is a social networking and local search engine that provides the reviews of places and things that matter to you. Simply log in, pick a place and queue up your inner critic. You can write a beaming review of your favorite gelato spot, or a scathing portrayal of that rental car facility you had to use after that curb came out of nowhere. Yelp's reviews are at once honest, uncensored, wildly hilarious and true. Heck, the site must be doing something right — it had 25 million viewers just last month!
---