Right at the bend on 7th Avenue sits a unique little coffee shop. At first glance, your eyes might detect only a gas station (because, back in the day, it was one), but your nose should pick up the wafting smells of rich coffee emanating from Copper Star Coffee.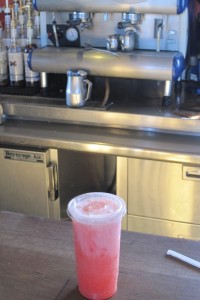 I'm always game for finding new places. When a buddy and I walked up to Copper Star, I could tell this was my kind of coffee shop. Decorated with eclectic trinkets and art, pumping indie rock and hosting a warm, inviting lounge area, this place had it going. I was instantly reminded of my favorite place to go during college. Ah, memories, nostalgia and such.
I was parched, so I needed something refreshing to wet my whistle. Naturally, I ordered an old standby, Strawberry Italian Soda. If you had happened upon me during my college years, all bets were on me holding one of these icy, sparkling beverages. I don't like to brag, but that might just make me a connoisseur of this type of beverage.
I dive in, and it is just like I remember. I'm pretty sure I teared up from sheer excitement. Each refreshing gulp was creamy and delicious, with just the right amount of fizz. The first couple of sips were reminiscent of eating a carbonated strawberry — or, at least I imagine that's what it's like.
So, readers and patrons of Downtown Phoenix, I implore you to check out the Melrose area. Do some shopping; get your dog and car washed; whatever your fancy. Then stop by for a pump of deliciousness at Copper Star and let them send you on your way with your thirst and appetite quenched. I know this old boy will be doing that more often for sure.
Copper Star Coffee is located at 4220 N. 7th Ave. in 7th Ave./Melrose — 602.266.2136.
---