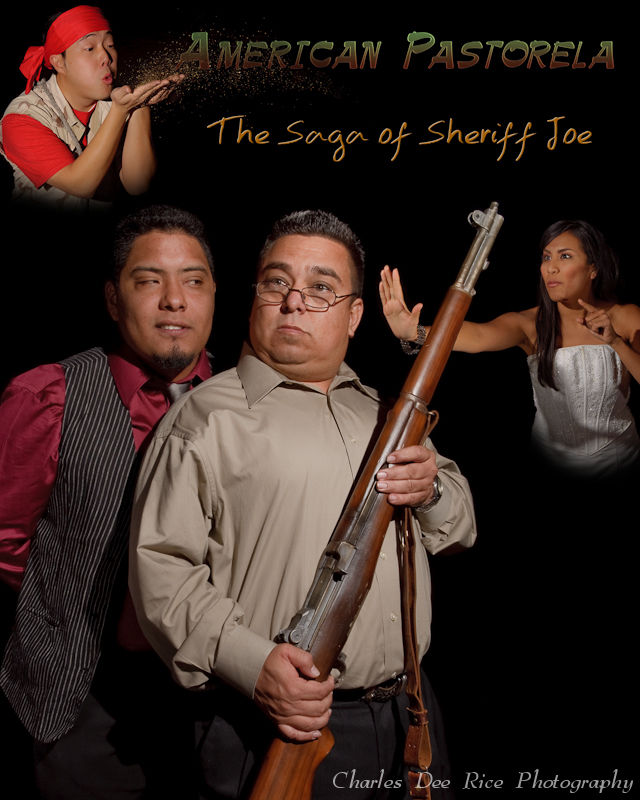 With so many things to do in Downtown Phoenix on First Friday, how do you decide what to do and where to go? Well, with First Friday opening of a play titled "American Pastorela: The Saga of Sheriff Joe," I knew I'd be in for some good, controversial fun.
Walking to the Third Street Theater, where New Carpa Theater Company put on the production, there was a chill in the air and plenty of people in the streets. Outside the theater abuzz with several  Sheriff Joe protesters  as people filed in to warm up and see the show. James E. Garcia, the writer and director of the play, was at the door to greet people and visit with the community. He graciously welcomed us and sent us on our way in to the theater, which was humming with enthusiastic patrons.
The lights dim and the curtain rises. The first scene portrays Sheriff Joe, played by James Rivas, being interviewed by the press about his tactics for keeping illegal aliens out of Arizona. This scene touches heavily on Sheriff Joe and his past history with the Phoenix New Times. Suddenly, while being interviewed, the Sheriff suffers a heart attack and dies. From there the play progresses into several quirky scenes that mix Phoenix history, Latino culture and religion.
The play follows the character Bartolo, played by John Tang, who is a messenger of God. Bartolo has been sent on a journey to bring a family from Mexico to Arizona. He misunderstands and finds the wrong family, but decides to bring them with him anyway. One of the family member's souls happens to be owned by El Diablo, who of course is keeping track of the progress as well. Meanwhile, Sheriff Joe is given a chance to live by El Diablo, but only if he is able to stop Bartolo from completing his task. Along the way, there are appearances by an angel, Billy Mays, Saddam Hussein, Hitler and even Michael Jackson. Wacky.
Sound a little confusing? Maybe odd? There are many pecuilar twists and turns that make this a very fun and interesting play. You must see this play for yourself to get the full experience! The good news is that it is playing from now until December 13 at the Third Street Theater. This play will make you laugh out loud and see a sometimes-touchy subject brought to light in the most unique manner.
For show times and pricing, visit New Carpa Theater Company's website, or call 623.252.2772. The Third Street Theater is located at 1202 N. 3rd St. in Evans Churchill (light rail station at Central/Roosevelt).
---