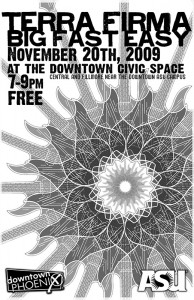 In its short history, Civic Space Park has hosted a variety of acts on its amphitheater stage. Funk, acoustic, soul, indie rock and blues melodies have graced the stage. In the name of diversity, Civic Space is quickly becoming one of Downtown's more reliable music spots.
This Third Friday is no different. The psychedelic post-rock sounds of Terra Firma will ring throughout the park. The Phoenix band is known for drawn-out, complex prog rock anthems and describes its sound as sounding like "a long train ride through the desert." We're not really sure what that means, but we know it sounds good. The band's new EP, In This Sign You Will Conquer, will be out soon, but you can hear some of the new jams on Friday.
Big Fast Easy, a three-piece from Tempe that mixes elements of punk, soul and rock, will also perform. Their debut full-length album, Can't Talk, Won't Work, is also set to be released shortly.
The show runs from 7-9 p.m., and is FREE!
Civic Space Park is located at 424 N. Central Ave. — light rail station at Central/1st avenues and Van Buren Street.
---