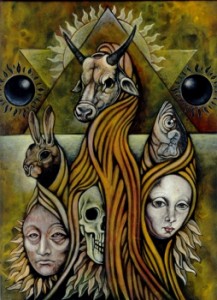 Take a look at Tucson-born painter Jesse Peper's work, and it's a bit puzzling as to where to focus. You feel like you're staring at a Tarot card, albeit a much larger, slightly more expensive one.
Peper, who has since ditched the desert to set up his studio in Denver, returns to Perihelion Arts this First Friday to display a set of 20 of his newest works. The theme? Take your pick: Peper lists surrealism, literature, anthropomorphic and totemic cultural creations and the "balance of the beautiful and the grotesque" among his many influences. And, yes, Tarot is in there, too. It's something you'd both smile and shudder at. It's like a scary acid trip.
Where religion meets spirituality meets the devil meets animal sacrifice, you can place Peper's work. The idea, buried somewhere in that description, is to blend the beautiful with the hideous. We think he succeeds with flying colors (just check out the picture if you have your doubts).
Peper, who works in series of paintings (he also sketches in ink as well), has had successful shows in Florida, New York and his home turf of Colorado since his last visit to the Valley.
Perihelion Arts is located at 610 E. Roosevelt St. — light rail station at Central/Roosevelt. (602) 334.6299
---