DPJ is proud to bring you the best Yelp reviews of your favorite Downtown restaurants, boutiques, venues and everything in between. Every Tuesday, visit DPJ for a finely crafted, tell-all account of a Downtown spot straight from the experts: the people!
Erin G.
Phoenix, AZ
Four-star rating
07.23.09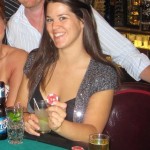 After a very frustrating bike shopping experience I went over to Landis to see what kind of selection and customer service they offered. I stopped by on a Saturday morning and met Rob who spent the next 45 minutes going over bicycles and options with me. When I gave him my budget he directed me to a Trek 7100 and went over the details and differences between a WSD and men's bike. Then we went out back and I rode the bike, which was slightly embarrassing, seeing as how I'm a total spaz. He didn't laugh though, and watched me ride with an expert's eye to my positioning so he could tell me about adjustments and bike customization. I tried out two different sizes of the Trek and went through a number of seat adjustments before we decided which would be the best fit. I felt really good about it and when we went back in he happily put together an invoice for me with all the bicycle accessories which he went over one by one in depth as well.
Rob also spoke to the owner and was able to throw in the heavy duty tubes and slime for free for me, as well as a water bottle and cage. The total came within my budget, which really sealed the deal. We talked about servicing the bike and the changes I would notice in it in the first month or so of riding it and he said I could come in for my bike's "90 day check up" for free.
I came back on Monday to pay for the bike and ride it home (six whole miles!) and while Rob wasn't there, another employee very helpfully went over all of my details again, told me about service options, answered more questions I'd come up with and in general was another nice bike guy I'll be glad to see when I come in for tune ups.
The only problem with Landis is that I don't live closer and the ride home was terrifying. I will load it onto a bus when I have to go back, for SURE. I've been riding every day since I got it (4 days ago) and think I made the best possible decision. Thanks again to Landis for all the help and attention with my first bike purchase!
Landis Cyclery is located at 712 W. Indian School Rd. (602) 264.5681
The DPJ Yelper of the Week offers honest insight on a Downtown business to help you explore your core. DPJ hopes that by partnering with Yelp to spread the good word about well-loved Downtown spots, you'll spread your patronage and support local business.
Yelp is a social networking and local search engine that provides the reviews of places and things that matter to you. Simply log in, pick a place and queue up your inner critic. You can write a beaming review of your favorite gelato spot, or a scathing portrayal of that rental car facility you had to use after that curb came out of nowhere. Yelp's reviews are at once honest, uncensored, wildly hilarious and true. Heck, the site must be doing something right — it had 25 million viewers just last month!
---