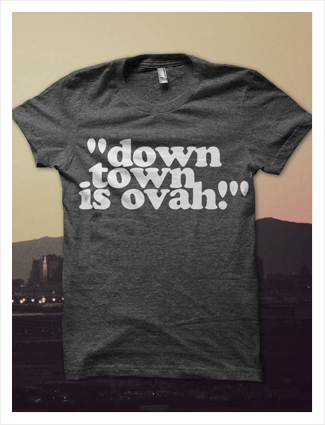 In quick response to a recent blog post declaring Downtown Phoenix's music scene dead (or "ovah"), former Format member and local merchandise guru Sam Means' Hello, website has created "Downtown is Ovah!" t-shirts in mock fashion.
Why should you buy one? Well, to publicly voice that Downtown Phoenix's music and arts scene is far from dead just because of a few recent events. In fact, it's only continuing to grow. New opportunities will undoubtedly start popping up soon. Second, Means and company are donating all sales profits to local charities, so you really have no excuse.
"The plan right now is to spread the proceeds around to a handful of local charities — Local First, Roosevelt Row, etc.," Means says. "For now, they will only be available online, but we're going to do our best to get them in some local retail shops ASAP. I just want to make sure people know this isn't a battle between Phoenix and Tempe… or anywhere else. It's just a reaction to a statement made specifically about the place we live/work, and hopefully we can make it stronger with a little bit of sarcasm."
There. You heard it here: Wear it loud, and wear it proud.
For more information about Hello, the t-shirts or why we're in this mess, head to downtownisovah.com.
---