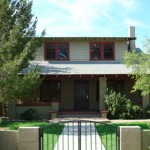 The city of Phoenix has designated 35 different neighborhoods in Downtown and Central Phoenix as "historic neighborhoods." In addition to living in a neighborhood where there are cool older homes, there are other advantages to living in a historic district.
Read about the history of each designated district, check out a map of the districts, learn about the potential property tax advantages and grants for rehab by visiting the City of Phoenix Historic Preservation Web page.
If you happen to be in the market for a home and would like information about current properties on the market in the historic neighborhoods of Phoenix, contact Lyle Plocher with Urban Connection Realty at lyle@downtownphoenixjournal.com.
---