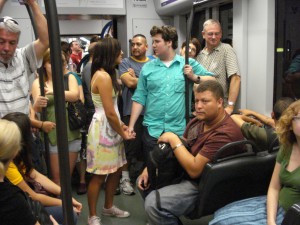 The first ever Night Rail event can be summed up in one phrase, "Veni, vidi, vici" – we came, we saw, we conquered.
The event was organized to show support for the extended light rail hours for Friday and Saturday evenings until 2 a.m. On Friday, July 31st light rail supporters gathered at various locations along on the line with plans to merge the groups in downtown Phoenix.
The evening began at 6 p.m. in the East Valley at Rula Bula, an Irish pub on Mill Ave. near ASU's Tempe Campus. Around 9 p.m., the crowd walked to the 3rd Street light rail stop and took the party to downtown Phoenix.
On the way, light rail riders were serenaded by a local performance troupe called the Motion Theatre Company.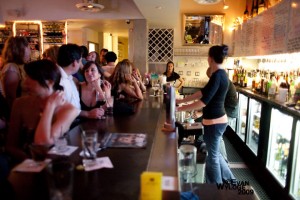 The perfect example of the unique opportunities the light rail provides, the small group of college students sang a selection of contemporary musical pieces include "Downtown [Skid Row]" from Little Shop of Horrors, "Season of Love" from RENT and "Lean on Me". The group was formed by Mark Jacobson, a student at University of Southern California, to "ambush common commuters" on the light rail line with the beauty of song. Friday was the group's last performance, but they intend to regroup over the holiday break. You can check out video of the performance, courtesy of Clintus McGintus.
Light rail supporters regrouped at Maizie's Cafe & Bistro near the Central and Camelback Rd. station. The Night Rail event filled the cafe to the brim, with attendees spilling out onto the patio and street. The group was a mix of locals and Phoenix leadership, including representatives from the Downtown Voices Coalition, RadiatePhx and Local First AZ.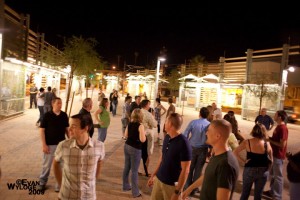 "This event is the right way to catch up with friends and explore places all along the light rail," said downtown Phoenix local Wayne Turner. "The extended hours make it easier to enjoy the evening without having to worry that my friends will or won't catch the light rail."
For the final stop of the Night Rail event, supporters took a short ride from Maizie's to the Roosevelt stop.
For updates on future events, be sure to check back or visit the Rail Life blog.
Thanks to Paul Valach for the gallery pics.
---