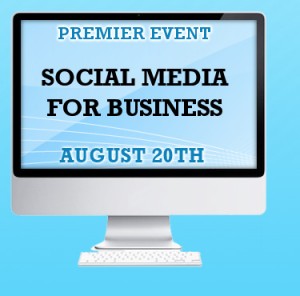 (ed note: this conference was originally planned for central Phoenix, but moved to Tempe because of capacity issues. It's just a short light rail ride away!)
Whether it is networking, marketing or blogging, social media is being used in a variety of ways.
While many businesses have discovered the advantages of using social media, others are falling behind.
The good news is, it is not too late for them to get involved.
An event is coming to downtown Phoenix (since moved to Tempe because of capacity issues) on August 20 to help these businesses transition to the new way of communication and interaction. Think of it as a "business introduction to social media 101," said Fred von Graf, founder of the event.
The all-day event, called SMAZ, will be from 9am to 4pm at MADCAP Theaters, 730 S Mill Ave in Tempe.
"The main purpose is to help businesses understand social media," von Graf said. "There's a lot of buzz around it right now and a lot of confusion, I think, as well."
The event will include presentations from key speakers, but the majority of it will be break-out sessions and panels to give participants the opportunity for one-on-one engagement with social media experts, von Graf said.
"It gives corporations, businesses and people that have an interest in this an opportunity to speak with people that are not only experts in it, but also people who have implemented it from a corporate perspective," von Graf said.
Von Graf came up with the idea for the event because he realized there was a need for it.
"There's not a lot of choice," he said. "This is the way people are communicating."
Social Media for Business also aims to help businesses understand the challenges they could potentially face when using social media and how to deal with them.
"Now people can have four or five thousand followers [on Twitter] and say something about your company," Von Graf said. "How do you address that?"
Von Graf initially thought the event would be a one-time thing, but now hopes to have something like it three or four times each year.
"The relationships that I've established just by creating this event are going to help probably make further events," he said.
From the point of having the idea to four days later, there were six speakers and several corporate sponsors who were interested, von Graf said.
Von Graf is trying to work with other small groups who are also involved with the growth of social media and technology, including PodCampAZ and the Business Marketing Association, which is having an event called Technology for Marketers in September.
For discount codes to Social Media for Business, look to the speakers and the sponsors, which include IBM, Ensynch, Lumension, and Off Madison Ave.
For more information visit the website or track the event on Twitter at #SMAZ.
---