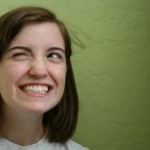 (ed note-Alex sleeps with a stuffed dinosaur named Dog, hits cute guys with frisbees and apparently isn't capable of taking normal pictures) (ed note #2-Alex was recently named employee of the month for June 2009. She went to Europe during that time. Thanks for all your hard work, Alex!)
My given birth name is Alexandra Flamini, but I am more commonly known as Alex. I'm a soon-to-be sophomore at Arizona State University's Walter Cronkite School of Journalism and Mass Communication. I live in Downtown Phoenix in the ASU Residence Hall, Taylor Place. I am currently an online journalism major looking forward to studying International Media and Covering Religion and Conflict in Europe this summer.
My new favorite part of Downtown Phoenix is the Civic Space Park that just opened adjacent to the Cronkite School. I love reading, picnicking, frolicking, and napping in the grass, despite the horrible allergies that ensue. Plus, there is a dancing fountain. How cool?
I'm from North, North, North Scottsdale, also known as Cave Creek, and frequently return home. This is mainly so my parents can wash my dirty laundry and so I can marvel at the glorious Sonoran desert. When home, I tease my cat, bicker with my brother, and bum meals off of my parents. An alumnae of Cactus Shadows High School, I was heavily involved in the theatre and music departments and served as an editor on the school's literary magazine and newspaper.
I have aspirations to become an International Conflict Journalist. Heavy much? Yeah, I know. Against my parents' wishes, I am actively pursuing this future career. As a first step I am looking for a place to take self-defense classes (my mother's plea). I hope someday I can move to Chicago and/or Washington, D.C. and get a dog.
I really enjoy cycling, Frisbee, words, road trips, Chinese food and cliché sunsets. My favorite flowers are daisies, and I am easily spotted sporting my classic Vans sneakers. I'm pretty laid back but am serious about my journalism. As an amateur photographer, I like to just go out and shoot for fun. My friends and I tend to get a bit innovative in our shoots. I frequent First Fridays Art Walks and would love to own a studio one day. Traveling is something else I enjoy; although, I do not like flying on airplanes. But I don't let that hold me back.
As a typical college student, I spend much of my time on Facebook and just perusing the web. Some of my favorite websites are Flickr, Sporcle, Tumblr, and Wikipedia. I shamefully check my email approximately every fifteen minutes, but hope it is good that I am pretty accessible.
I'm glad you're checking out the Downtown Phoenix Journal. Your hits make my portfolio that much more impressive! Not to mention I just think it's cool to write for a website. Have a wonderful day.
---