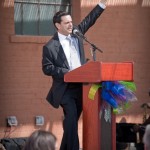 Looks like the Civic Space is going to be a success, as hundreds of students, residents and curious visitors stopped by to celebrate the grand opening on April 16. There were giveaways, contests and a concert for the lucky attendees.
Phil Gordon spoke to the audience amid applause and support from the midday crowd.
See below for images.
Pictures courtesy of Evan Wyloge.
---