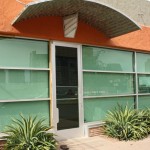 Improvements began Monday for the Downtown Phoenix Public Market's permanent grocery store, which is expected to open in June.
The 4000 square-foot retail space at 14 E Pierce St will be open five days a week and will serve as downtown Phoenix's first local foods grocery store.
The market announced Feb. 28 that they had received $305,000 in funding for the permanent store. The largest loan for $250,000 came from the Phoenix Industrial Development Authority, which aims to provide financial assistance for the community and economic development within Phoenix. Other support came from the Arizona Community Foundation, the Local Initiatives Support Corporation, Bank of America, and Wells Fargo Bank.
The market will need another $130,000 for operating costs over the next year until the store is established.
"It's part of a plan," said Cindy Gentry, the executive director of Community Food Connections. "Our plan for this market is a 12 to 15 year plan to establish a public market here in the heart of our city, but we needed to start small and see what the supply and the demand was."
Community Food Connections, which operates the Public Market along with other programs, is committed to "increasing access to good, healthy food and helping farmers stay on the land," Gentry said.
The store will include local products such as produce, dairy, eggs, and baked goods. There will also be a wine and beer bar, a cafe, crafts, and a community meeting room. There will be products from the vendors along with other products from local and regional producers that are not available at the outdoor market.
Gentry said the vendors are happy about the expansion.
"A lot of them have been with us almost as long as we've been open," Gentry said. "It's kind of like a big family and I think they see it as a chance to strengthen community as well as a chance for economic development."
If the grocery store is successful, Gentry sees more expansion in the future.
"By six years from now, I hope to be in a permanent facility that is about three times as big as the land we're standing on now."
The outdoor market will still be open for its usual hours, Wednesdays from 4pm to 8pm and Saturdays from 8am to 1pm.
---