The Arizona State University Jazz Combos will headline the Green Jazz Series concert for a special encore performance on Wednesday, April 15.
The concert starts a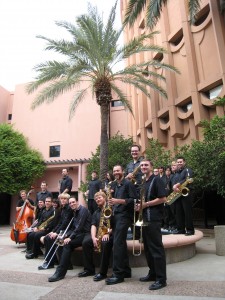 t 7 p.m. at the Herberger Theater, 222. E. Monroe St.
The ASU Jazz Combos headlined the series on Nov. 11, 2008 and are returning for an encore performance. The ensemble takes their audiences through the history of improvised music from New Orleans to 52nd Street and beyond. The groups range in size from four to seven people. They often perform on the ASU campus but have also made several off-campus appearances in clubs and resorts around the Valley.
Admission is free but proceeds will support the Green Survival Initiative (GSI), a Phoenix-based sustainability project. Through the use of cost-effective green technologies, GSI seeks to alleviate increasing energy costs for approximately 1,000 low- and fixed-income households in the Phoenix metropolitan area
A green business networking opportunity will precede the concert at 5:30 p.m. It will include informational booths and promotional giveaways.
For more information, visit sw-green.com, or contact Marshall Terrill at 602-496-1005 or marshall.terrill@asu.edu
---