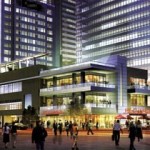 Jennings Strouss & Salmon PLC signed a lease with RED Development for 54,000 square feet in the first phase of CityScape, a three-block mixed-use project under construction in downtown Phoenix.
The law firm expects to move into the new office in June 2010. It is 20,000 square feet smaller than the space Jennings now occupies at the neighboring Collier Center.
John West, managing attorney at Jennings, said new technology, customized design and other amenities will allow the 90-attorney firm to be more productive in less space.
"Our costs will be less in the long run than staying put," he said
Source: Jan Buchholz, Phoenix Business Journal
---