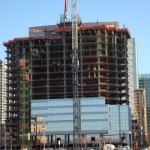 As you can see from the construction photo, crews are starting to add exterior glass walls to the steel framed structure of the 600,000 sq ft Class A, first tower at CityScape.  This tower will be home to a couple of Legal Firms, Squire, Sanders & Dempsey as well as Ballard Spahr Andrews & Ingersoll.  Additionally, the anchor tenant, Wachovia/Wells Fargo is still on board.  Also, in this tower will be a Gold's Gym and a steakhouse operated by Fox Restaurant Concepts.  Retail tenants who have committed to go into the CityScape project on the block previously occupied by Patriot's Square Park include AJ's Fine Foods, Urban Outfitters and its rumored that CVS Pharmacy will commit, which would give Downtown Phoenix its first Drug Store.  At least four other tenants are expected to be announced in the next 30 days according to a reliable source.
 
For those of you not familiar with CityScape, this project will eventually occupy three linear blocks right in the heart of downtown, creating needed connectivity between US Airways Center, Chase Field and the Warehouse district on the south with the north side of downtown.
 
More Info about the CityScape mixed/use Project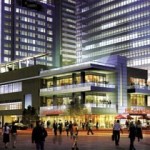 For Office Leasing, call 602 735 5100, For Retail Leasing, call 800 805 9202.
---